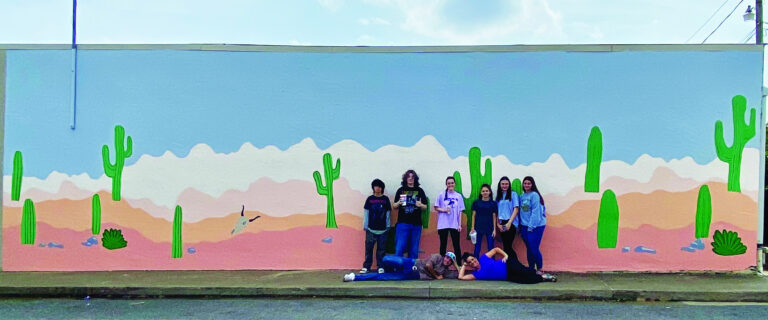 More student art murals to come
A new mural went up at Lafayette and Broadway last week as part of the Creative Expressions Throughout Small Town Checotah. This mural was painted by a group from the Checotah's National Art Honor Society and Checotah High School (CHS) Art 4 Class. Artists included Amelia Johnson, Brianna Gilbert, Elisabeth Ortiz, Alivia Phillips, Sydney Estes, Khyli Miller, Jeshua Prokop and CHS Art Teacher Elisa Ortiz.
This mural is the largest to date and was the fifth one to be completed by CHS art students and staff.
"This mural was completed in a little over five hours," Mrs. Ortiz said. "The students did an amazing job of coordinating their ideas and working diligently together. I was proud to watch them work together to make adjustments to the design, discuss changes as a group and listen to each other's ideas to create a beautiful piece of art in just one day.
"I would also like to thank the nice couple that took all eight of our art students to lunch at Boomerang's while they were painting this mural. It was a very sweet and gracious gift for the students to take a break, relax, eat lunch and spend time making memories. We appreciated it greatly."
Mrs. Ortiz applied for the Carolyn Watson Rural Oklahoma Community Foundation Grant in 2020 in hopes of acquiring funding to bring more awareness of the Arts to Checotah and share the talents of her students with the community. After being awarded the grant Mrs. Ortiz asked students to submit their ideas for murals to be painted using the funds from the grant. All of the murals painted throughout the community have been designs created by CHS art students. The last design was created by Mercediez Burnett in 2021 when she was still a student at CHS.
Mrs. Ortiz' main purpose for all the murals is for Checotah to be a must-see location to visit that is rich in the arts with multiple murals and more.
There is still more funding to create more art around the town of Checotah.
A few of the terms of the grant are:
• The mural must be in a public location (inside or out)
• The mural must be visible to the public
• The mural must be within the city limits and can be painted with acrylic paint.
If any businesses are interested in having a mural painted please contact Mrs. Ortiz at the Checotah High School at 918-473-9100.