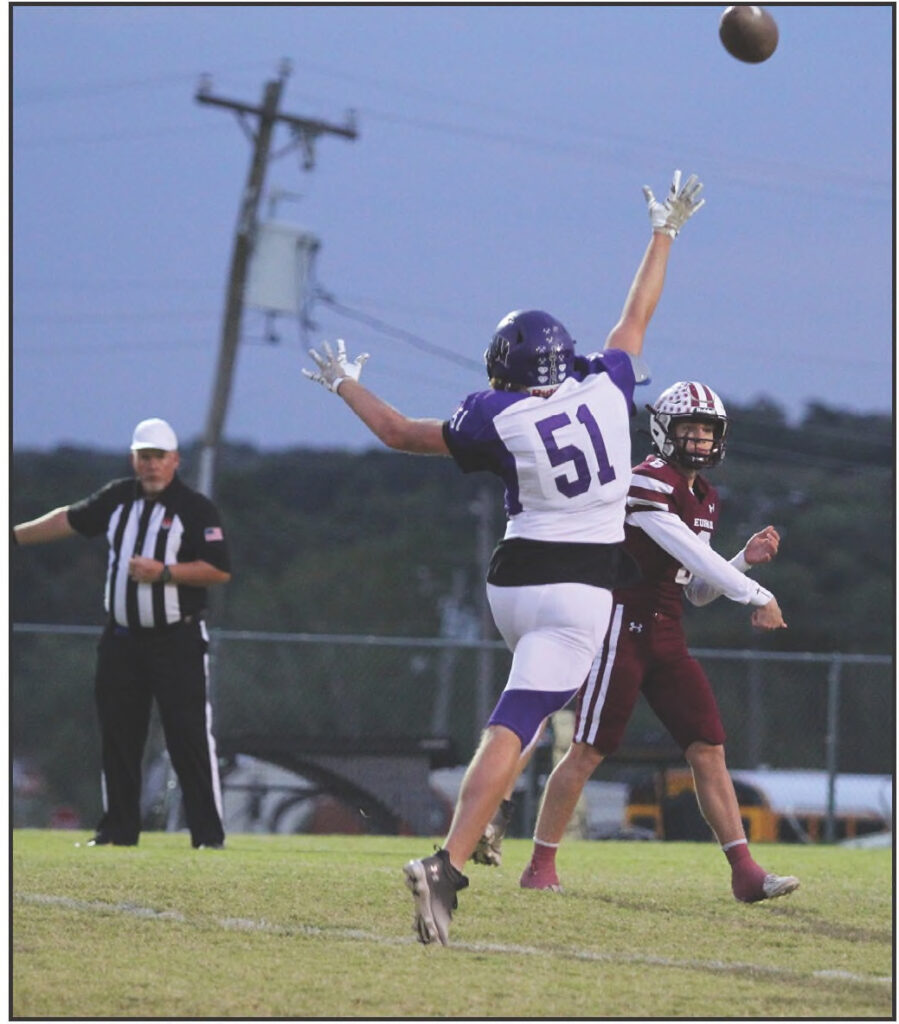 Ironheads roll over Bearcats 49-8
The Eufaula Ironheads (5-2, 4-0) dominated the Antlers Bearcats in every fashion on the football field to get a big district win 49-8. Eufaula's highoctane offense exploded from the opening kickoff. Eufaula scored first on a long, timely drive that was capped off with a short yardage touchdown run by quarterback Ledger Folsom.
The Ironhead defense, which has been lethal against opponents, got in on the action as Maddox Bridges snatched an interception and took it to the
Pick-6 to extend the Ironheads' lead 14-0.
The Bearcats' offense was no match for the Ironheads' defense as Eufaula tormented them with violent hits, bone snapping tackles and flooding the backfield for losses on the play.
"Our defense has been very physical and aggressive the last couple of weeks. I'm very proud of the effort they gave tonight," Eufaula head coach Larry Newton said.
Eufaula Offensive Coordinator Josh Luna had his squad focused and let his offensive line control the line of scrimmage as they made multiple long methodical drives that controlled the clock.
Eufaula scored on two Gavin Watkins rushing touchdowns to take a 35-0 halftime lead. In the second half Eufaula drove down the field with center Connor Mcallister and the rest of the O-line blowing the Bearcats off the line. The drive ended on a Blayden Neil 2-yard run.
Eufaula's defense again stopped an Antlers' drive when Kaden Rice intercepted a pass and ran it back for a 20yard touchdown. Eufaula's defense held Antlers to just 109 total offensive yards.
On the next offensive possession Peter Lee made a 57-yard touchdown run look easy as he juked and jived his way into the end zone.
The Bearcats finally put points on the board as they scored a touchdown against the Eufaula reserves.
"Being an old offensive lineman, I was very impressed with how we played up front and I thought we had some underclassmen step up and play well for us like Trevor Dodd and some other guys that give us a little depth at those positions. We're going to enjoy this victory and get ready for the next opponent on Monday," Newton said.
Eufaula ended the night with 264 yards of total offense with 213 yards coming from the ground attack.
Peter Lee led Eufaula with eight carries for 152 yards and a touchdown. Folsom was 5/8 for 51 yards and an interception and three runs for 26 yards and a touchdown. Gavin Watkins had four carries for 22 yards and a pair of touchdowns.