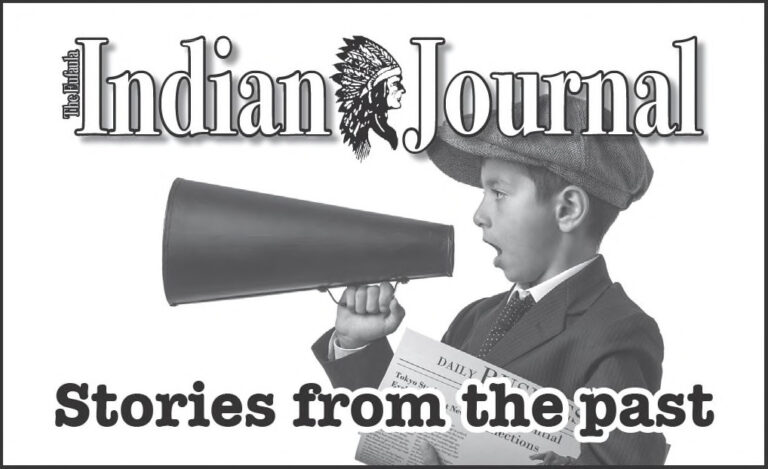 Indian Journal Stories from the past
143 YEARS AGO
There are two sides to the question of opening Indian Territory to settlement by the whites, and in discussing the Oklahoma agitation both are to be considered.
The case of the emigrants now waiting on the border has been pretty well stated in the press dispatches. They claim that there are in Indian Territory certain public lands to which the Indians have no title, and that they are open to settlement as any other public lands in the United States.
They argue, further, that this Territory should be opened to settlement and to railroads, in the interest of civilization, and an attempt is made to give the raiding movement the heroic character and high fervor of a crusade.
On the other hand, it is claimed that there are no public lands in the Territory open to settlement, anc that the laws and treaty obligations of the United States contemplate any invasion of the Territory as unlawful and criminal. This is the position of the National Government and of the Indians concerned.
CURRENT ITEMS
– A new Arctic expedition is being contemplated in England.
– New Zealanders are happy because they are to be allowed by their Parliament to marry their dead wives' sisters.
– Brazil has voted a credit of five million milreis for increasing its navy, and four million milreis for increasing its army material.
– A woman sawed a hole in the ice of Fitzroy, Canada, thrust her head through it into the water, and in that way drowned herself.
THE OKLAHOMA QUESTION
There is so much said on the Indian Territorial question, through passion, prejudice, ignorance or avarice that any attempt to give a fair or candid statement of the case. However public, should be cordially encouraged.
There are hundreds of thousands of people who are interested in the question.
117 YEARS AGO Friday, October 19,1906
CHECOTAH'S SCORCHING
At 3 o'clock on Saturday morning last a fire occurred at Checotah which burned to the ground three frame buildings with a loss of about $20,000. Mrs. Strothers, wife of a furniture dealer, was burned to death while trying to rescue from the burning building a little daughter, when in fact, the child had escaped from the building unhurt, but this was unknown to the mother.
She had led her youngest child down stairs when the fire broke out, the other one following her, but this the mother did not know.
Death of Sam Jones
Sam Jones, the noted evangelist, died during the week on the train that was bringing him from Oklahoma City to his home in Georgia to attend a family reunion. He was accompanied by his family. He was 59 years old.
FAIRBANKS ITINERARY
On Monday next Vice President Fairbanks will travel through Oklahoma, speaking at various points from the platform of the train. He will not shake hands. On Tuesday he will pass through Indian Territory, the train stopping five minutes perhaps at Eufaula. A committee from Indian Territory will meet him at Oklahoma City and escort him through the territory.
100 YEARS AGO
Thursday, October 11, 1923
MCBEE CHARGES MARTIAL LAW HAS RUINED BUSINESS OKLAHOMA CITY, Oct. 6 – Charges that conditions throughout Oklahoma are in a state of chaos and the state itself on the verge of bankruptcy as a result of Walton's administration was hurled today by Representative McGee.
Mad Dog Here Bites Man and Boy
A small dog belonging to G.C. Hall bit J.W. Carter, a well-known farmer living at Deere's Chapel four miles west of Eufaula, and a young boy, whose name we were unable to get, here Saturday afternoon. The dog was killed and its head sent away for examination for hydrophobia.
Reports from the laboratory in Oklahoma City Monday said the dog was affected with rabies.
Both Mr. Carter and the boy are being treated with serum to kill the effect of the bite.
GOVERNOR CALLS LEGISLATURE TO UNMASK KLAN OKLAHOMA CITY, Oct. 6 – Governor Walton in a daring and spectacular move to prevent impeachment by enemies, who he claims were incurred as a result of his fight against the Ku Klux Klan, has summoned the legislature to meet in special session October 11.
In his proclamation Walton asks the legislature to enact laws "to protect people from masked and lawless marauders and mobs and secret organizations."
75 YEARS AGO
Thursday, October 14, 1948
Death of Pierce Girl is Blamed on Cotton Insecticide
Death of a 9-year-old Pierce girl was blamed by her physician Friday on a poison spray used on cotton.
The child, Annette Jacobs, died in a Checotah hospital.
City is Ready To Carry Out Street Program
City dads are well pleased with their experiment in street blacktopping and ready to carry on an extensive surfacing program throughout the residential area if Eufaula residents agree to pay the cost.
Mayor K.C. Burnham said city officials were satisfied that a surfacing program could be carried on economically with city employees doing the work. The approximate 500-feet strip of black topping on the street west of the post Office was put down as an experiment, with the city bearing the expense.
First County Men Are Called For Interviews The first group of McIntosh county draft registrants has been called for medical interviews at the local selective service board next Tuesday, October 19.
In the group are 18 men from 23 to 25 years old. From this number eight will be selected to take the induction examination in Oklahoma City, October 25 at 10 a.m. Two of that number will be inducted into the army Nov. 22.
50 YEARS AGO
Thursday, October 11, 1973
KIDDIES PICTURES THIS YEAR TAKEN IN COLOR
For many years the Indian Journal has been running a pictorial feature of the youngsters in this area as "Citizens of Tomorrow." In the near future we will again be publishing a free picture of all the children who are brought by their parents or other guardian to the News Office between 9 a.m. and 5 p.m. on Friday, October 26.
An expert children's photographer will take the pictures to assure uniform quality and size for best reproductions … and this year will be taken in natural living color.
Eufaula Jaycees Charter Nigh Banquet, October 9
Several dignitaries in the Southeastern District of Oklahoma as well as Arkansas and Miami, Oklahoma were on hand for the Eufaula Charter night Jaycee banquet on Tuesday night, October 9 at Fountainhead Lodge.
25 YEARS AGO
Thursday, October 8, 1998
Johnson Parole Could Be in 2001
Former Eufaula Mayor Joe Johnson could be paroled within three years and four months from his 10 year sentence if the Oklahoma Pardon and Parole Board decided to make such a recommendation and the governor agreed to sign the parole.
On Saturday, District Judge Steven Taylor sentenced Johnson to a total of 10 years in prison for Jonson's conviction of 10 felony charges, ranging from conspiracy, filing a false claim and embezzlement.
H.O.G. Rally brings bikers
An impressive estimate of 1,617 bikers from all over the U.S. attended last weekend's Oklahoma State Harley Owners Group Rally held in Eufaula again this year.
"That's about 1,000 less than last year," said Don Wilkerson, local H.O.G. member and Marketing/ Public Relations Director.
Living History Celebrated At Park
From campfires to vintage frock hats, iron skillets to hand-sewn bonnets and rain-proof tents, from hand-made woodworks to historic folklore … Fountainhead Park came alive with its annual living history encampment and crafts celebration last weekend.