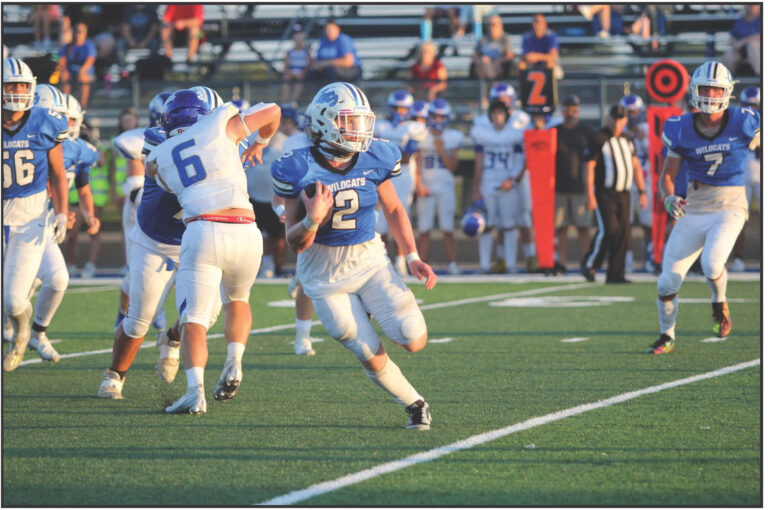 Wildcats offense too much for Seminole
The Checotah Wildcats' (5-1, 2-0 District 3A-3) offense continues to zoom past their competitors, as the Seminole Chieftains were the latest victims, 46-26. Running back Kaden Mitchell continues to run over defenses as he had 153 yards rushing on 18 carries with a touchdown. Checotah head coach Zac Ross' high-octane offense exploits the weaknesses and flaws of opposing teams while defensively the Wildcats improve with dominance each and every week. One of the Wildcat defensive linemen, Kamden Miller, (6'6", 230 pounds) has been a hawk on defense, making numerous tackles for a loss by surprising offenses with his speed.
"Our defensive line likes to hit people and disrupt the offense. I just try to do my job the best I can. It's really important if we are going to go a long way into the season and hopefully the playoffs. It's a big step up from last year's defensive line. Coach Butler has been a big impact because he always brings the energy on the defensive side, especially for the linebackers. Coach Butler has had an impact on my life and my teammates. He's always making sure I keep my head up along with the other guys," Checotah senior defensive lineman Kamden Miller said.
Friday's on the road win had a big impact on the team.
Reighn Westbrook was the leading tackler for the Wildcats with 12 tackles, three for a loss and a fumble recovery.
"Our defense has turned the corner. It has built our confidence and we know the coaches will have us prepared for anything. Our defense has been playing lights out, our defensive line has been tough to deal with as well as our linebackers with the run game. Our secondary has been doing a great job shutting down the passing game. Coach Drew Dan has been a huge addition to the staff. He teaches us things you wouldn't get taught anywhere else. He has a big role to do with this team and he brings a lot of enthusiasm and a spark to our receivers and secondary. I want to give a big thanks to the Checotah coaching staff for having us focused and prepared every week," Checotah senior defensive back Lane Elliott said.
Defeating Seminole at Seminole was important and a big accomplishment.
"It's as important as it gets. To have a strong team win after a disappointing week is exactly what we need to establish who we are as a team. The offense has been improving each game. Having multiple targets to throw to makes my job easier knowing I got guys that I can count on to make a play. Kaden Mitchell has played a huge part in our offensive scheme. His toughness and relentlessness running with the football of blocking has been great. I know he gives 100% every time he touches the football," Checotah quarterback Jacob Jones said.
Jones missed a couple of games last season due to a back injury. When asked about his back Jacobs said," My back has never felt better".
Jones finished with 7 of 17 for 159 yards and two touchdowns.
Sooners commit Elijah Thomas finished with two rushing touchdowns and a 71-yard kickoff return and Jaden Lake had 112 yards receiving with two touchdowns.
Checotah will host Lincoln Christian Friday at 7 p.m. at Ray Grandstaff Stadium in a pinnacle district matchup.