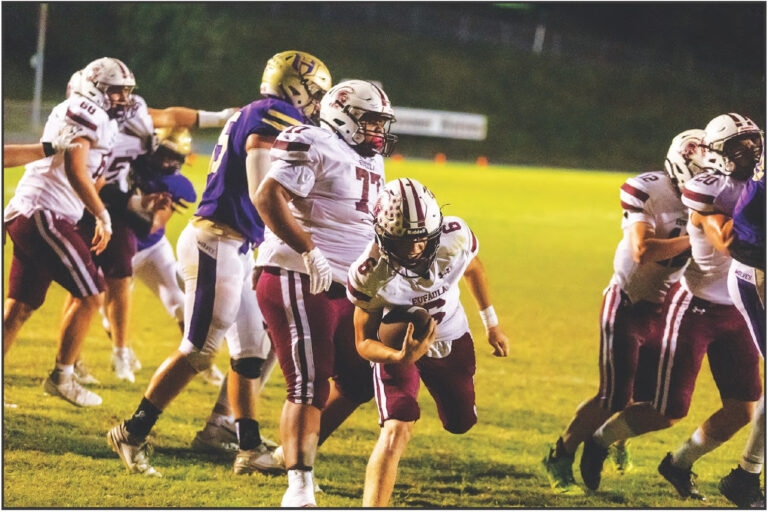 After slow start, Eufaula Ironheads get past Heavener
The Heavener Wolves put a scare in the Eufaula Ironheads before falling 35-14 in District 2A-6 play Friday night at Heaveners' Harvey Stadium.
Both teams are 3-2 overall. Heavener is 1-1 while the defending district champion Ironheads are 2-0. Heavener visits Idabel this Friday night while Eufaula entertains a winless Wilburton team.
Heavener led over Eufaula until the Ironheads scored late in the second quarter to tie the score, then the Ironheads used their massive lines to take control in the second half to beat a team that previously had trouble staying on the same field with Eufaula.
Folsom scored all five touchdowns for the Ironheads, who started slow but dominated the second half.
The Wolves led twice in the first half on a 6-yard touchdown run by quarterback Jason Clubb on the Wolves' first possession and again minutes later when Clubb hit Jaxon Armstrong on a 27-yard touchdown pass to erase an 8-7 deficit.
However, Eufaula took the lead by scoring twice in the second quarter, including Folsom's go-ahead score with only 59 seconds left before halftime. Eufaula then scored the only two touchdowns of the second half, including a touchdown with 12 seconds left to pick up one extra district point.
What had been a potent offense early for Heavener was slowed in the second half as Eufaula used its huge lines to take control of the trenches and put away the Wolves before Heavener's largest crowd in years.
Ledger Folsom finished with 77 yards on 17 carries and was 4 of 6 for 72 yards and five touchdowns. Gavin Watkins led the Ironheads rushing attack with 110 yards on 17 carries.
The Ironheads' defense was on target in the second half as they held the Wolves to just 117 yards rushing and 200 yards passing. Rashon Watts, Carson Luna, Bryan Lynn and Draven Gragg played a huge part on defense while Bladen Neil, Conner McAllister and Trevor Dodd were key to the offensive line.