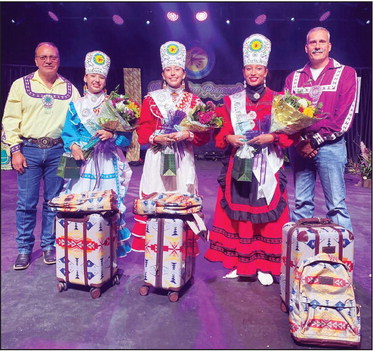 Choctaw Nation Royalty crowned over Labor Day
Twelve-year-old Sophia McFarland recently won the Title of Little Miss Choctaw Nation of Oklahoma for District 11 in Tvshka Homma. This was her second time to compete for the title.
Sophia's Choctaw dress maker was Christine Baker. Sophia chose the unique color of sky blue as the primary color for her tribal dress. The color symbolizes confidence, wisdom, lightning, and the heavenly bodies. The dress was also trimmed in the traditional full diamond motif highlighting her cultural respect for nature and the Eastern Diamondback rattlesnake. Her bead work was a sunburst motif which signifies spiritual being, and the tri-color rays radiating outward represent wind, water, physical and intellectual aspects of life.
Her Choctaw artisan was Alisha Steve.
Sophia is the daughter of Daniel and Crysta McFarland of Hartshorne.
Sophia enjoys playing basketball, running track, making TikTok videos, singing in church and volunteering at the District 11 Community Center. She also likes attending Lakewood Christian School, along with her twin sister Alexandria. Both girls are in the 7th grade.
Last year Alexandria was the runner up for Little Miss Choctaw Nation of Oklahoma.
Sophia believes that the secret to their success is that they never give up.
"Halito (hello)," Sophia said. "As a six generational descendant of Captain John Wade who led 594 Choctaw on the Inaugural Wave of The Trail of Tears in November of 1831, I know my people never give up. I'm very proud to be from my fifth generation grandmother who was a former first lady of the then newly unified Choctaw Nation in Indian Territory. Her name was 'Ohoyo Tema' Wade, which means 'To Give Forth.' I know that there are no dreams too large, no innovation unimaginable and no frontiers beyond my reach. So I plan to create my own path and to be known forever by the tracks I leave behind. Yakoke (thank you)."
Also crowned were Kassidy Lee as Junior Miss from District 9 and Aliyah Myers as Senior Miss from District 7. These young ladies will represent the Choctaw Nation of Oklahoma for the next year.