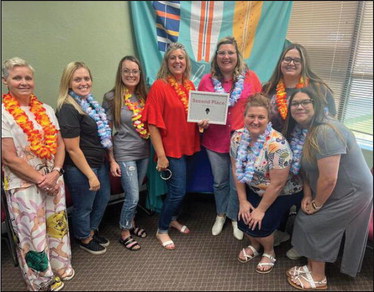 lifestyle
August 30, 2023
Judge Hogan has recipe for high morale
In March, District Judge Mike Hogan was named co-recipient of the prestigious Judge of the Year award, an honor bestowed annually by the Oklahoma Chapter of the American Board of Trial Advocates (ABOTA).
Not only is Hogan a respected jurist among his peers, in the Mc-Intosh County Courthouse he also is admired among the employees who work there.
He's good for their morale.
Dealing with documents day-in-and-dayout can be tedious and boring, but since Hogan became chief judge for McIntosh and Pittsburg counties in 2019 the work environment has become somewhat more enjoyable.
"Judge Hogan makes every effort to encourage the courthouse employees to step away from our desks and join together either for friendly competitions or even just a themed dinner for about 20-30 minutes every quarter," County Clerk Deena Farrow said.
She said he urged everyone to find some time to get together once per quarter and just keep the morale built up within the courthouse and keep the working relationships strong, Hogan came up with the idea for the Golden Spoon award.
The Golden Spoon is the first place prize and each year the previous winner passes the award on to the new winner.
"Kind of like our traveling trophy," Farrow said.
The Court Clerk's office won this year in an ice cream competition. The County Clerk's office placed second. The Treasurer's office came in third.
The ice cream judges were Serina Kleveter, Erin Davis-Bridges and Bob Davis.
"This does keep the morale up and encourages us to keep building and strengthening our working relationships between offices," Farrow said. "We all get along well and I appreciate his efforts in this.
"I am proud to have him as our District Judge and also call him my friend."
She says Judge Hogan shows much interest in the county and he is so appreciated.
"We love having him here!" she said.