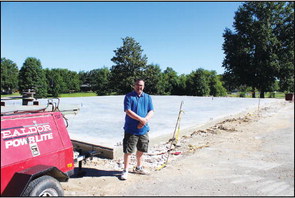 First Baptist Church adding a wing
Lord willing, the First Baptist Church of Eufaula will have a new wing sometime around Palm Sunday, March 24, 2024.
"We hope to have a ribbon cutting on Palm Sunday," Pastor J. Ingram said. "It may be open before then."
The 8,000 square foot, $800,000 expansion to the 62-year-old main building has been planned for a long time. It will increase the overall floor space by about 50 percent.
"We're incredibly excited. This has been an idea of the church for generations. We've finally got to the point where we're able to do it," said Ingram, who has been pastor for about 16 years. "One of the primary goals was, we wanted to make sure we had access to the whole facility for people who might be mobility limited."
The existing building is three stories, including a basement and two floors above that, not an easy climb for the older folks. The expansion is one story.
"Youths can go up and down stairs all day long, but people our age aren't as able. When we built (this church) in the '60s, that's just the way they built them. But we've got to get away from that. We need to serve everybody in the community, not just the able bodied. This will solve that problem."
There will be a breezeway with an awning between the main building and the new wing.
"So if you want to drop somebody off when it's raining, they won't get wet," he said.
A new ramp has been installed so people can walk from the sanctuary to the new space, which will include classrooms, offices and space for youths and children.
"We will be able to re-purpose the existing space that's for the young people," he said.
Many of the rooms in the church today have multiple purposes. The additional space will allow for better use of space.
"This will basically be a family life center," Ingram said. "It's more than a gym. It's going to be like new classrooms and things like that."
This is the third phase of the church's building program.
The first two phases were a remodeling of the youth parsonage and a new parsonage for Ingram.
Thus far the building projects have been debt free.
"We haven't had to borrow any money, and I don't think we will have to take on any debt for this one. If so, it won't be very much," Ingram said. The church started getting serious about the expansion about four years ago, putting in the dirt where the foundation would be. But the COVID hit and there were supply chain issues, which delayed everything.
"We were going to start last year, but it was so hard to get everything together," Ingram said. "But the year's delay has helped us, such as the price of lumber and things has gone down. So, waiting has been beneficial. But, we're tired of waiting."
Concrete for the foundation was poured a couple of weeks ago.
The metal building components have been delivered, waiting to be erected.
Ingram figures the church saved millions of dollars by using metal instead of the conventional method, used in building the original church.
"Nobody builds a non-steel building anymore."
Ingram said they have been fortunate in finding brick for the skirting that almost matches the main church building.