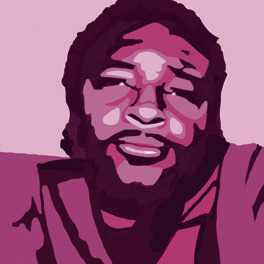 Wine & Art Festival to feature famed artist
Starr Hardridge will create giant painting
The former Eufaula Mural Festival and Art Walk, which focused attention on the creation of murals on the outside walls of several buildings in Eufaula, has evolved into The Vision Eufaula Wine & Art Festival.
The Festival is set for Saturday, Sept. 9, 10 a.m. to 6 p.m. at 150 N. Front St., the vacant lot south of Nelson Feed & Seed.
There will be art booths, wine from area wineries, food trucks, live music and more.
The application deadline for participating artists, wineries and food vendors has been extended to Sept. 6.
For more information call 405-248-2992.
Celebrated Muscogee-Creek artist Starr Hardridge, 49, will be a highlight of the festival.
Hardridge will begin painting a 58-foot by 8-foot work of art on the north side of E's Hideaway restaurant this Sunday evening, Aug. 27.
"Because of the heat he will mostly work in the evenings and at night," said Karen Weldin, director of Vision Eufaula.
The award-winning artist should be finished with his enormous painting by the start of the event.
A twist in this year's celebration of art will be a "paint by the numbers" event, an opportunity for the general public to help create works of art honoring figures from Eufaula's storied past. Participants, for a fee, can help paint portraits of six memorable Eufaulans.
Hardridge was born in Denison, Texas, but grew up in locations throughout Central Oklahoma, where his late father was a ranch foreman and an oilfield roughneck.
He received a BFA in Illustration and Painting from the Savannah College of Art and Design in Savannah, Georgia, in 1997 and then continued his studies at a oneyear Residency in Penne D'Agenais France at the Nadai Verdon Atelier of Decorative Arts.
Hardridge's work has been shown at the National Museum of Wildlife Art in Jackson, Wyoming, the Five Civilized Tribes Museum in Muskogee and the National Cowboy & Western Heritage Museum in Oklahoma City. And his paintings were awardwinning favorites, including Best of Show, at the 2019 Eiteljorg Museum's Indian Market & Festival in Indianapolis, Indiana.
Something new
A twist in this year's celebration of art will be an opportunity for all artists, aspiring artists and those without an artistic bone in their body, to help create works of art honoring figures from Eufaula's storied past.
Called "paint by numbers," the concept allows anyone to help paint mockups of six historic figures with deep roots in Eufaula, including football legends Lucious, Dewey and Lee Roy Selmon; jazz saxophonist Charles Brackeen; singer, performer, Native American activist Tsianina Redfeather Blackstone; and businesswoman Sarann Knight Preddy, first woman of color to have a gaming license in the state of Nevada.
Artist Jack Fowler, former editor of the Indian Journal, has sketched the six figures, each of which will be placed on a 5-foot by 5-foot canvas.
Each sketch will be divided into sections and the sections numbered, allowing participants to apply paint following the instructions.
Each canvas will be sold for $1,000. An individual can buy an entire canvas, or several people can pitch in and buy a canvas and each person may then paint a section – thus, paint by the numbers.
"Under the direction of Jack, during our Wine & Art Festival you and your group will be painting these one of a kind sketches by numbers! Yes, just like we did when we were kids! Who didn't love painting by numbers?" said Karen Weldin, head of Vision Eufaula.
The paintings will be placed at locations around town, so folks who painted by the numbers will be able to admire their work and take pride in having created something memorable for Eufaula.
"This will honor people in a permanent way," said Fowler, who last year painted the mural that covers the outer walls of the jail located behind the Indian Journal office.
The panels containing the paintings are lightweight and can be easily moved to different locations around town.
Paint By the Numbers is a community project, not a project for one painter.
"This will be a lot of fun," Weldin said. "And it will get people in the community and businesses involved."
Lucious Selmon
Born in Eufaula, March 15, 1951.
He was a collegiate and professional American football nose guard, and football coach. He began his coaching career in 1976 at his alma mater, the University of Oklahoma, and has also coached on professional teams. From 1995 to 2002, he was a coach for the Jacksonville Jaguars, and has also coached privately.
Dewey Willis Selmon Born Nov. 19, 1953.
A former football linebacker. He played collegiate football at University of Oklahoma, forming the defensive line with brothers Lucious and Lee Roy, among others. He went on to play for the Tampa Bay Buccaneers and the San Diego Chargers in the National Football League (NFL) . He earned a Ph.D. in Philosophy from the University of Oklahoma. He is a member of the College Academic Hall of Fame.
Lee Roy Selmon
Born in Eufaula, Oct. 20, 1954 . Died in Tampa, Fla., Sept. 4, 2011.
Lee Roy was an American professional football player who was a defensive end for the Tampa Bay Buccaneers of the National Football League (NFL). He played college football as a defensive tackle at the University of Oklahoma, the youngest of three brothers to play football there.
He was a consensus All-American in 1974 and 1975 and a member of consecutive national championship teams for the Oklahoma Sooners in 1974 and 1975.
Charles Brackeen
Born in Eufaula, March 13, 1940. Died Nov. 5 2021 in Carson, California. Played tenor sax.
Brackeen originally studied violin and piano before switching to saxophone at the age of 10. He played in a recording with members of the Ornette Coleman Quartet in 1968 and on Jazz Composer's Orchestra recordings by Don Cherry (1973), Leroy Jenkins (1975), and Paul Motian for ECM (1978 and 1979).
Tsianina Redfeather Blackstone Born in Eufaula, Dec. 13, 1882 as Florence Tsianina Evans. Died in San Diego, Calif., on Jan. 10, 1985 at the age of 102.
She was born to Cherokee and Creek parents. All nine of Tsianina's siblings had musical talent, but she was the best. She began training at the age of 14 in Denver, Colorado. She became a singer and performer. After her performing career, she worked as an activist on Indian education, co-founding the American Indian Education Foundation. She also supported Native American archeology and ethnology, serving on the Board of Managers for the School of American Research founded in Santa Fe by Alice Cunningham Fletcher.
Sarann Knight-Preddy Born as Sarann Chiles in Eufaula, July 27, 1920. Died in Las Vegas, Nevada, Dec. 22, 2014. She was an American business leader and gaming pioneer in the U.S. state of Nevada. In 1950, she became the "first and only woman of color to receive a gaming license" in the state. She was the co-founder of a node of the Democratic Club in Las Vegas. Briefly, in the early 2000s, she owned the Moulin Rouge casino in Las Vegas, For her efforts over the years, Preddy was awarded an honorary doctorate by the University of Nevada, Las Vegas.