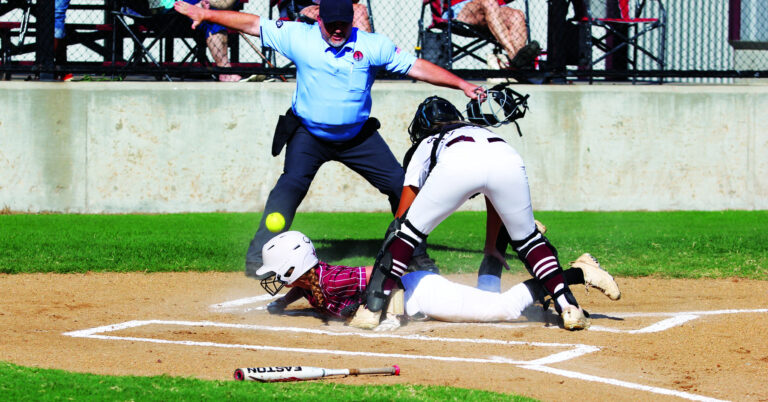 Eufaula falls to Sequoyah 6-4
The Eufaula Lady Ironheads fell to 7-4 overall after being edged out by Sequoyah 6-4 on Saturday. It was a battle from the start as Eufaula led 3-2 at the end of the first inning. From that point it was a pitcher's game for both teams as no one scored in the next three innings. Sequoyah then blasted away in the fifth inning, scoring four runs. The Lady Ironheads tried to rally with a run in the same inning but failed to put any more runs on the board, giving Sequoyah the win.
Kate Pippenger, Kadie Jo Tidwell, Maddie Ballard and Jadence Efurd each went 1-for-3 with an RBI.
In the early game, Eufaula lost to Poteau 6-5. Eufaula ripped off five runs in the first inning, including a fourrun home run in the first in what looked to be a blowout victory but the Poteau Lady Pirates bounced back with a pair of runs in the first and four runs in the third. Poteau never let the Lady Ironheads score again. Kate Pippenger led Eufaula at the plate. going 2-for-3, Tidwell was 1-for-3 with 3 RBIs, Allie Anderson and Rayleigh Peterson each was 1-for-2 with an RBI. Avery Williams took the loss for Eufaula.
On Friday, Eufaula topped Crossings Christian 3-1. Eufaula pitcher Avery Williams allowed just six hits and one run in over five innings, striking out one and walking zero.
Kambry Williams led Eufaula at bat going 2-for-3.
Eufaula shut out Roland 7-0 on Tuesday. Eufaula started early, scoring three runs in the first inning before finishing well with runs in the final three innings. Kadie Jo Tidwell and Efurd were 2-for-4 and Rayleigh Peterson 1-for-4 at the plate. Avery Williams was the winning pitcher. She lasted seven innings, allowed zero runs on five hits, striking out an impressive 11 and walking zero. Maddie Ballard hit another home run this time. It was in the sixth inning to seal the victory for the Lady Ironheads.
On Monday, Eufaula held off a tough Spiro team 9-4. Spiro scored two runs on two errors in the first inning to take a 2-0 lead. That was enough to see Eufaula head coach Ryan Green call a timeout and address his team in a passionate speech. After that Eufaula rolled on both sides of the game. Kadie Jo Tidwell made two great defensive plays and threw players out at first base. Jadence Efurd smashed a pitch over the fence as Eufaula rolled to a 9-4 victory. Williams earned the win from the pitcher's circle. Eufaula racked up 13 hits in the game, including a double by Peterson and Pippenger.
Rodney Haltom | SPORTS EDITOR