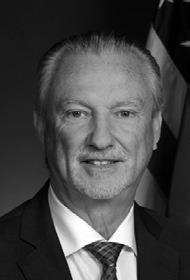 This Week at the Capitol
It has been some time since I have released a column, and I want to touch base with my constituents in House District 15.
Regarding my health, I would like to let everyone know that I am doing really well and am already working on bills for the next session.
However, I would like to share with you updates that are being done in House District 15 outside of bills.
In July 2022, we established an adolescent psychiatric crisis center in Southeastern Oklahoma, where there had previously been none.
The Carl Albert Adolescent Crisis Center is the first adolescent psychiatric center for Eastern Oklahoma. This unit was developed for anyone that has a concern about someone committing suicide or someone experiencing severe mental health issues.
The center contains 10 beds and can serve individuals for 7 days. The individual can get immediate help, evaluations and needs as- sessments. This can determine what type of therapy, medications or other interventions may be helpful.
However, the negative side is that a patient may only stay there for seven days, after which time the individual has to be checked out for other interventions.
I have been working on fixing that problem, and we are now working toward having an adolescent psychiatric hospital. Again, this will be located in Southeastern Oklahoma. It will be a 22 bed facility that can help someone who leaves the crisis unit but needs further intensive help.
This would been intensive care where physicians, psychologists, therapists work with in depth problems. It will retain others, such as master level therapists, that can continue these services as the individual exits the hospital. There is not a limit as to the length of time the individual can stay in the hospital.
At this point, we have established $2.5 million to remodel the west wing of McAlester Regional Hospital to provide this service. This is exciting and I am pushing to address this in the 2024 Legislative Session.
These are components that facilitate already established achievements, such as the new Eufaula Hospital. We have provided $5 million to build the Eufaula Hospital, which will have helicopter service for emergency interventions and continuous doctors on staff. At this time, I am still working on critical access for the hospital, which will ensure its longevity. If this is acquired, each service will be reimbursed by the federal government at 101%.
This can be just the beginning of what is needed in mental health services in southeastern Oklahoma. There has never been anyone that has pushed these desperately needed services in our area. At this ;>oint, I have authored 8 )ills that have become aw since my first session in 2019. It is an honor for me work on these details for House District 15 and many others in southeastern Oklahoma. I look forward to continue working for District 15.
Rep. Randy Randleman, a Republican, represents House District 15 in the Oklahoma House of Representatives. His district includes McIntosh and Haskell counties and portions of Muskogee, Le Flore and Pittsburg counties.