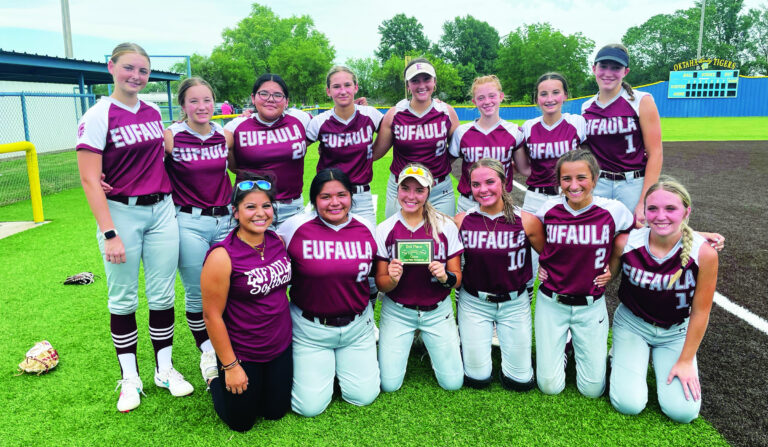 Eufaula falls in Championship game
The Eufaula Lady Ironheads (4-1) were handed their first loss of the season as Stilwell edged Eufaula in the championship game of the Gore Tournament 6-5 on Saturday.
The game-winning single for Stilwell came in the bottom of the seventh inning in the title game was a Texas blooper that Eufaula got to, but could not hang onto the ball as it popped out of the glove, allowing the winning run to score. It was a fantastic game as Eufaula had a 5-2 lead in the mid innings before Stilwell rallied to snatch away the win.
It was a defensive battle until the third inning when the Stilwell Lady Indians put a pair of runs on the board. It didn't take Eufaula long to answer as they rallied in the fourth inning, putting up four runs to take a 4-2 lead. Eufaula put the pressure on, led by Avery Williams, a fielder's choice by Allie Anderson and a double by Kate Pippenger.
Stiwell came back with three runs in the sixth to tie the game 5-5. Avery Williams took the loss for Eufaula. She allowed nine hits and six runs over six innings, striking out three.
Eufaula tallied 11 hits with Pippenger, Williams, R. Peterson and Jadence Efurd each managing multiple hits in the game.
On Thursday, Eufaula rolled to two victories. Avery Williams threw another shutout on the year as Eufaula blanked Okmulgee 10-0 in three innings. The Lady Ironheads scored first on an error in the first inning. The floodgates then opened for the Lady Ironheads as they scored three more runs in the first and five runs in the second inning.
The rally was led by an error on a ball put in play by Allie Anderson, Kate Pippenger, and Gabriel Noriega and a single by Rayleigh Peterson.
Willimas was the winning pitcher for Eufaula. She surrendered zero runs on one hit over four innings, striking out eight and walking zero.
The Lady Ironheads stole five bases during the game with two players stealing two and Williams led with three stolen bases. Abby Box led at the plate going 2-for-2 with an RBI. Noriega was 1-for-2 and Peterson was 1-for-2 with a pair of RBIs.
In game two, Eufaula outlasted Oktaha Junior Varsity Lady Tigers 1-0.
It was a game of great pitching by both teams. Eufaula scored the only run in the game in the first inning when Kate Pippenger doubled on a 1-1 count.
Williams was the winning pitcher, as she surrendered zero runs on four hits over five innings, striking out four and walking zero.
Pippenger led Eufaula at the plate going 2-for-2.
The Gore Tournament was played in Oktaha due to the field being flooded at Gore.