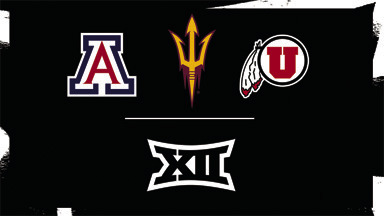 Big 12 adds Arizona, Utah and Arizona State to conference
The Big 12 presidents met Friday evening, voting unanimously to accept Arizona State and Utah into the conference. Arizona was unanimously accepted Thursday evening. Arizona, Arizona State and Utah will defect from the Pac-12 and join the Big 12 in 2024.
The additions come one week after Colorado left the Pac-12, returning to the Big 12 after leaving in 2010.
"The conference is gaining three premier institutions both academically and athletically, and the entire Big 12 looks forward to working alongside their presidents, athletic directors, student-athletes and administrators," Big 12 commissioner Brett Yormark said in a statement.
The Big 12 membership moves up to 16 teams. The largest in league history, for the 2024-25 academic year, making the conference one of three Power Five leagues with at least 16 member institutions (Big Ten and SEC).
Beginning with the 2024-25 academic year, the Big 12 Conference will be comprised of 16 members – Arizona, Arizona State, Baylor, BYU, UCF, Cincinnati, Colorado, Houston, Iowa State, Kansas, Kansas State, Oklahoma State, TCU, Texas Tech, Utah and West Virginia.
The Pac-12 also lost Oregon and Washington to the Big Ten late last week.