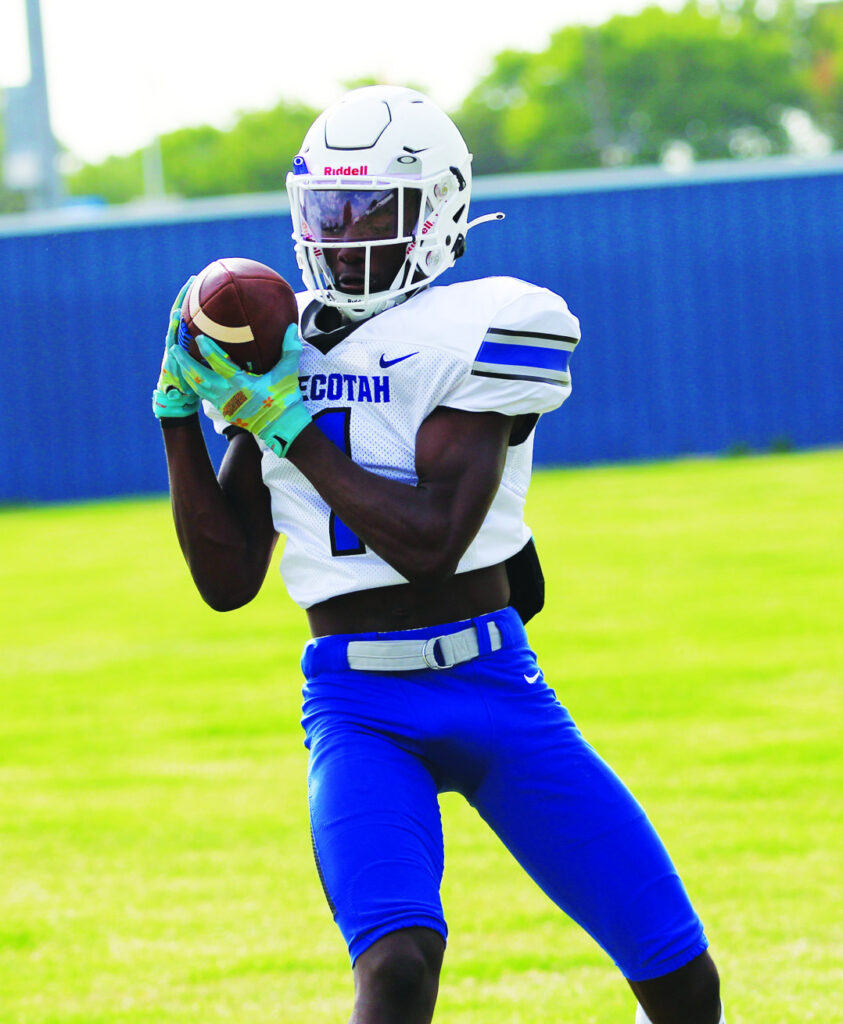 Wildcat receiver Elijah Thomas commits to OU
Checotah receiver Elijah Thomas has committed to play football for the Oklahoma Sooners. He made the announcement Thursday on social media.
"First and foremost, I'd like to thank God because without him I wouldn't be where I'm at today and my parents for providing for me all my life. With that being said, I have committed to the University of Oklahoma," Thomas said.
The four-star prospect is the second wide receiver to join the 2025 recruiting class. Thomas is a 6'1", 180-pound athlete that can play multiple positions. Thomas is ranked as the No. 1 prospect in the state and No. 97 nationally per Rivals.Com and is ranked as high as 20th nationally in other polls.
"We think it's great for Elijah. It's an exciting time for him and his family and we are very proud of him," Checotah head football coach Zac Ross said.
Thomas was named the McIntosh County Democrat Co-Offensive Player of the Year as a sophomore receiver/ DB and kick returner. He led the team in receiving with 54 receptions for 951 yards and 13 touchdowns.
Thomas is a four-sport athlete having excelled in football, basketball, baseball and track.
Thomas also won the OSSAA State Long Jump and placed third in the 100-meter dash. The Oklahoma receiver joins coach Brent Venables and the Sooners' top five class in the 2025 team rankings. He is accompanied by four-star wide receiver Gracen Harris, four-star quarterback Kevin Sperry, and others.
Thomas joins other Checotah greats to be recruited by the University of Oklahoma such as Gregg Dixon and David Shoemaker in 1985 when the Sooners won a national championship.
The first thing you notice about Thomas is his ability to release off the line of scrimmage against press coverage. With fantastic lateral agility, he's able to ditch his defender and get vertical in a hurry. Thomas displays really good route running and is smooth down the field. He's got really nice hands and can break away from the defense after the catch. The four-star prospect displays the ability to track the football well in the air and time his jumps well when going up to get the football. He also displays good toughness at the catch point and the ability to break tackles in the open field.
Thomas had received scholarship offers from the University of Arkansas, Kansas, Kansas State, Tulsa, Oklahoma, Oklahoma State, North Texas and Texas A&M and Alabama.
Thomas is yet another DI athlete Checotah head football coach Zac Ross has developed.