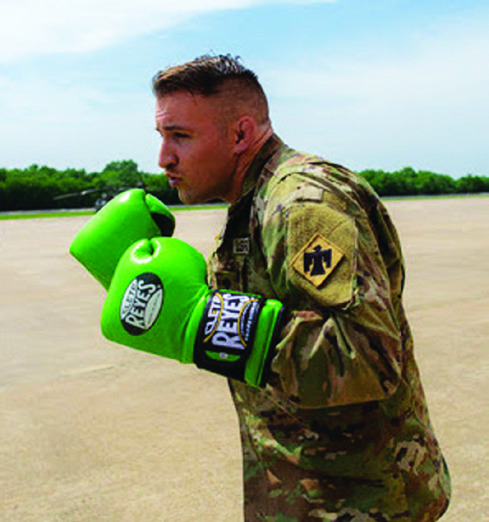 How an Oklahoma National Guard Soldier found redemption in MMA
TULSA – Spc. Justin Budd, a member of the Oklahoma Army National Guard from Tulsa, Oklahoma, harnessed his fighting spirit in an unconventional way. Battling with anger issues throughout his youth, Budd found purpose in Mixed Martial Arts, enabling him to transform his life.
"It saved me, (MMA) 100 percent it saved me," Budd said. "My family and friends would say it saved me. I'm not saying I was a bad kid, but my inability to control my anger could have put me in a very bad place if I didn't have something like this to keep me centered."
Having tried various sports like wrestling to manage his emotions, it wasn't until Budd discovered MMA that he truly found an effective outlet. Budd firmly believes MMA provides an ideal avenue for individuals struggling with anger management or personal challenges.
"When you come in here, you expend a bunch of energy, you get humbled, and you release a bunch of emotions," Budd said. "It couldn't get healthier than that, and you're doing it in a controlled environment with a coach making sure you don't get hurt."
In February 2023, Budd made his professional MMA debut at Legacy Fighting Alliance 152 in Shawnee, Oklahoma, where he secured an impressive knockout victory in the first round. With seven years of MMA training, six while serving in the National Guard, Budd established himself as one of the state's most accomplished fighters. His exceptional amateur record of 10 wins to only two losses earned him the opportunity to turn professional.
For Budd, both MMA and the National Guard offer platforms to aid and protect others.
"I think that fighting for my country, fighting for my state, fighting for myself—it all ties into validating that I can protect myself and others," he said. "Every time I've been out, and I see somebody that needs help, I want to help. I think being in the Guard helps because when they call me up, I've volunteered for almost every SAD (State Active Duty) mission that's come up."
Budd joined the Oklahoma Army National Guard in 2017 as a combat engineer. He is currently a member of the 244th Assault Helicopter Battalion, 245th Airfield Operations Battalion, 90th Troop Command where he will train as an Aviation Operations Specialist.
Budd actively contributed to various State Active Duty missions, including security operations during the 59th Presidential Inauguration in Washington, D.C., and assisting in the preparation and distribution of personal protective equipment in response to the COVID-19 pandemic. "Every time there's been a moment where Oklahoma's needed us, I go out there, and I volunteer because that's what I signed up for," Budd said. "I want to help people. I like helping people."
While continuing to serve his community through the Oklahoma National Guard, Budd relentlessly pursues personal growth within the realm of MMA. In his determination to set new heights, he's certainly not afraid of setting lofty goals.
"Right now, my goal is to be in the UFC," Budd said. "But the ultimate goal is obviously UFC champion."
By dedicating himself to both military service and the pursuit of excellence in MMA, Justin Budd exemplifies strength and determination, demonstrating his commitment to positively impact the lives of others both inside and outside the cage.