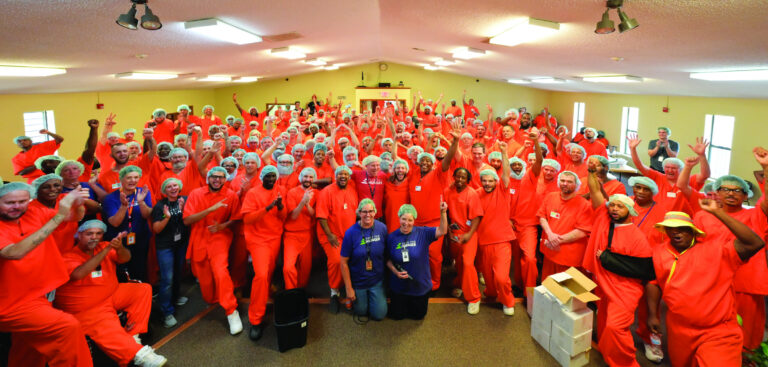 Inmates at Jess Dunn Correctional Center assemble thousands of meals for refugees and children in need
TAFT – These men are on a mission. About 150 incarcerated individuals at Jess Dunn Correctional Center recently participated in a "Packathon."
"I had 50 pounds on one side and 50 pounds on the other," inmate Ivan Harrison said. "It was pretty exciting. Once we got the food inside the building we set it up at different stations."
Partnering with Crossings Community Church and Feed the Hunger, the men assembled more than 40-thousand nutritious meals to be distributed both in America and internationally.
"That was awesome because my whole life I've been a screw up," Harrison said. "I was always messing up and making the wrong choices. I was not helping people. I was hurting people. It just feels good to help somebody for once."
The Food is earmarked for refugees and needy children. It'll also help stock food pantries and supplemental school food programs.
"The time went by so quickly and it was such joyful work," inmate Mike Durand said. "There were men singing and we had music going. It was a cool thing to be a part of."
This volunteer service project will have a monumental impact worldwide, but it's also having a positive influence on the Jess Dunn prison population.
"Men were coming up to us and thanking us," Chaplain James Remer said. "It was life changing for a lot of men. I was blown away by it."
Crossings Church has already committed to returning next year and the men at Jess Dunn have set an ambitious goal of 120-thousand meals in 2024.
"It's a little humbling to realize a bunch of men from Oklahoma are making an impact on the other side of the globe," Remer said. "They are helping out people who nobody else is helping right now. Hopefully they will remember that day long after they are here. They did something really important while they were at Jess Dunn."