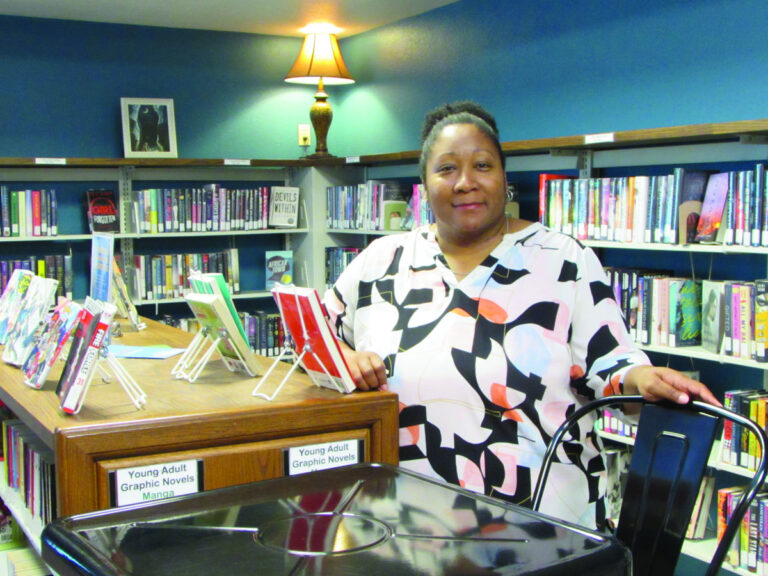 New Branch Manager joins Eufaula library
Shymekia Wilson-Adams has been appointed Branch Manager of Eufaula Memorial Library.
"I find it a true blessing to have the opportunity to serve in this capacity. My passion is helping others," Adams said.
She replaces Brittany Moore, who became Collections Senior Librarian in Bartlesville last month.
Adams approaches her new position with enthusiasm.
She describes herself as a "leader and caretaker to a huge supportive family, a devoted mother of three sons, passionate veteran and retired teacher of 23 years, and spirited community advocate."
The new Branch Manager grew up in Muskogee and attended Muskogee Public schools from primary grades through high school and graduated in the top of her class.
"I attended Langston University on an academic scholarship," she said.
She graduated with a Bachelor's degree in Elementary Education in 1999, and in 2012, graduated with a Masters degree in School Administration/ Educational Leadership from Northeastern State University.
In 1999, she began her teaching career with Tulsa Public Schools as an elementary school teacher and worked there for nine years.
"Later, I was hired with Muskogee Public Schools as an Alternative Ed teacher. While working in the Muskogee School district I also was employed parttime with Union Public Schools as an Adult Ed teacher which lasted for three years," she said.
After 23 years she retired from Muskogee Public Schools.
During her educational years of service she was selected teacher of the year for her respective school sites within the Tulsa and Muskogee school districts.
"As an educator, I have served a variety of roles and capacities such as team leader, mentor teacher and on several district committees. My experience in education has formed my passion in helping students cultivate to their fullest potential in life academically as well as socially," she said.
In 2021, she launched a new career in Haskell, at the Rieger Memorial Library.
"The birth of a librarian in me began," she said. " As the position for an outreach Librarian became available I envisioned myself in this role because of my interest in serving people and serving the community."
She says she has had "the utmost support in both the community and the Eastern Oklahoma Library System, which has given me the opportunity to grow as a leader and public servant who loves to engage and empower people."
Adams enjoys reading realistic fiction novels, dancing to all types of music, and attending events that support the community and "is a fond lover of wrestling and football."