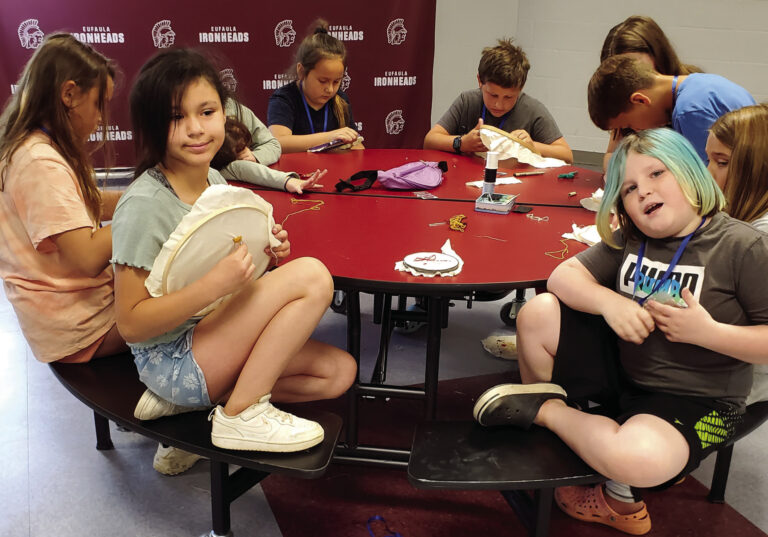 2023 Summer Arts program comes to Eufaula
The Eufaula Summer Arts 2023 project hosted at Eufaula High School from June 5-9 concluded with grateful achievements. The program, organized by the Eufaula Area Arts Council (EAAC) provided a plan for 70 students between the ages of 6 and 18 to explore and nurture their artistic talents. This remarkable accomplishment is particularly noteworthy as being a large-scale summer arts educational project since the post pandemic era began.
This program was designed to be accessible to all, with minimal costs and hardship scholarships available to those in need.
Under the guidance of seven Teaching Artists, each specializing in different artistic disciplines, students were able to study a variety of creative pursuits.
The participating artists include Zinse Agginie (African drummer), Kaitlyn Urquhart (sewing), Richard Jenkins (comics), Sheryl Cozad (painting and drawing), Jahruba Lambeth (storytelling and dance), Patti Morgan (printmaking) and Kyle Reese Wagner (choir and music).
Most of the artists make a living through their chosen medium whether it was drumming or visual art. With a small attendance of 10 or fewer students per class, personalized attention and hands-on learning experiences were ensured.
Feedback from the young participants and parents was overwhelmingly positive. Several students expressed their newfound confidence in overcoming stage fright. One student said, "I wanted drum and comic class to continue."
Another student said, "My greatest accomplishment was making a portrait." These encouraging remarks highlight the impact of the Eufaula Summer Arts program on the student's artistic growth and self-expression.
Jan Pipkins, a seasoned educator from Eufaula Public Schools, served as the site director, bringing her wealth of teaching experience and dedication to the program. Her commitment and leadership were instrumental in creating a supportive and enriching environment for all participants.
To celebrate the conclusion of the program, a final performance and art exhibit were set up in the high school auditorium and cafeteria. Parents had the opportunity to admire and collect their children's artwork.
The success of Eufaula Summer Arts 2023 would not have been possible without the support of organizations such as The Carol Watson Rural Oklahoma Community Foundation, Oklahoma Arts Council, the National Endowment for the Arts and Eufaula Area Arts Council. All played essential roles in providing the necessary resources in creating this program.
The Eufaula Area Arts Council expresses its gratitude to all the sponsors, artists, educators and students who contributed to the success of this project.
Through their collective efforts, Eufaula Summer Arts 2023 has reaffirmed the community's commitment to fostering creativity, artistic exploration and personal growth among its young area residents.