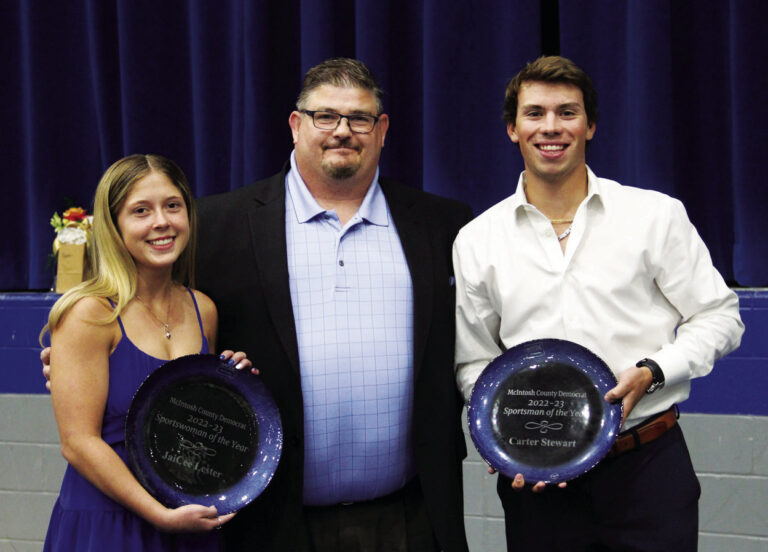 Lester, Stewart named McIntosh County Democrat Sportswoman and Sportsman of the Year
The 2023 Checotah Sports Banquet was an emotional evening as Jason Dowdy passed the torch to Malcolm Warrior as the new head men's basketball coach. Dowdy had to take several moments to regain his composure as he talked about the love for his players and coach Warrior.
"Malcolm is like a son to me. My daughters call him their second dad because we spend a lot of time at the house preparing for games. I know the program is in good hands," Dowdy said.
Dowdy was named the new Checotah Athletic Director taking over for Jeramy Branchcomb.
McIntosh County Democrat sports editor Rodney Haltom gave a speech to all the athletes and recognized them for their achievements. Haltom then introduced the McIntosh County Democrat 2023 Sportsman of the year Carter Stewart.
"This young man was a 2sport athlete that competed in football and golf. He was an outstanding kicker with a field goal of 46 yards and caught the attention of Ole Miss.
He also was an unbelievable golfer for the Wildcats as he qualified for the OSSAA State Golf Tournament in Ardmore where he finished 12th overall in the state. and will play on the All-State golf team this summer. His community service is as follows.
Community service: – He held a kicking clinic for youth football – He also hosted a Golf Clinic at Creek Nation Head Start – Donated a flat screen TV to the Middle School Science Lab and a cornhole set for Mrs. Emerson.
In my opinion he is the best golfers to come out of Checotah since Brice Terry. He also received an Athletic Scholar- ship to play golf at Northeastern State University," Rodney Haltom said.
Haltom then introduced JaiCee Lester as the 2023 McIntosh County Democrat Sports Woman of the Year.
" Lester was a 3 sport athlete-competing in Cross Country-Basketball and track. Her leadership skills on those teams and in the classroom was beyond exceptional.
For her effort in basketball she was named the McIntosh County Democrat Most Valuable Player. Her community service is as follows.
Community service: – Working with residents at Nursing Home – Ringing the bell for the Salvation Army during Christmas – Volunteer coach for youth basketball She also Received the Pricilla Memorial Frix Scholarship Nominated for the Checotah Heisman Scholarship and received the Bob Moneyham Memorial Scholarship and will be recognized at the 2023 OSSBA Education Leadership Conference and she already graduated from Connors State College," Haltom added.
The qualifications to be the McIntosh County Democrat Sportsman or Sportswoman are a student athlete must participate in multiple athletic sports, do community service and carry a 4.0 grade-point average or as close to it as possible.