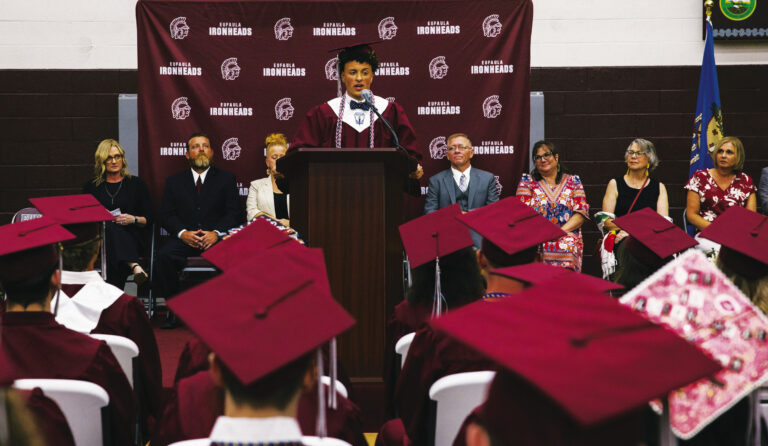 2023 Ironheads commence to their next journey
Scholarships worth $6,404,674 awarded
Faculty and students alike kept an eye on the weather last Friday as the commencement ceremony was moved into the High School Gym. As the Class of 2023 prepared to hear their name called for the last time in their high school career, they saved a seat for their classmate Izzy Combs who suffered an automobile accident due to the rain.
High School Principal Heather Combs greeted the graduating class, faculty and parents to begin the ceremony.
Senior Class President Avery Armstrong was first to take the stage.
Avery is son of Natalie Armstrong and the late Durand West.
Armstrong is also the 2023 recipient of the Gates Scholarship.
Gates Foundation continues its long-standing commitment to helping outstand- ing minority students realize their maximum potential. Avery was one of 750 recipients from over 51,000 applicants nationwide.
He plans to attend Duke University where he will study Political Science and then go on to law school to become an attorney.
"I stand before you today humbly and grateful," Armstrong said. He spoke of their journey, overcoming challenges and building lifelong friendships and acknowledged those teachers who had an impact on their lives.
"Although we go our separate ways, this moment is sacred."
He ended with a quote from Michael Jordan. "Some people want it to happen, some wish it to happen and others make it happen."
"Celebrate. We deserve to be grateful."
Salutatorian Brett Pippenger
Brett is the son of Jeff and Andrea Pippenger. He plans on attending OSU to study mechanical and aerospace engineering.
"I want to thank our sports systems. They pushed us and comforted us. We showed us what it is to be an Ironhead. Another lesson that we learned is that things don't always go as planned."
Pippenger encouraged his classmates to take a moment to appreciate where you are.
"Appreciate the small moments."
In closing, Pippenger quoted Ferris Buller.
"Life moves pretty fast. If you don't stop and look around once in a while. you could miss it.
Valedictorian Jacob Maddox
Valedictorian Jacob Maddox took the stage as the final speaker to address the graduating class. Maddox is the son of Stephanie and Mike Lewis of Eufaula & Chris Maddox of St. Louis, MO. Maddox reminded his classmates to value community and take pride in their accomplishments, stay humble and to support one another.
"Success is not always measured by wealth."
He ended with a quote from Mark Twain.
"Success comes from hard work."
Hard work paid off for the graduating class. The Class of 2023 was awarded $6,404,674 in scholarships.
Top 10 2023 graduating students Jacob Maddox Brett Pippenger Avery Armstrong Andrew Worley Adler Graham Abigail Fletcher Ontario Ellen Luke Adcock Livia Dunn Jilyenne McIntosh
Scholarships
Jessica North $1,000 Savannah Goodman $7,000 Jilyenne McIntosh $72,420 Robert Johnson $78,000 Riley Morgan $82,290 Tia Pollard – $83,900 Olivia Begay $109,500 Luke Adcock $178,130 Abigail Fletcher $293,292 Adler Graham $531,240 Jacob Maddox $1,019,516 Andrew Worley $1,073,296 Avery Armstrong $2,876,090