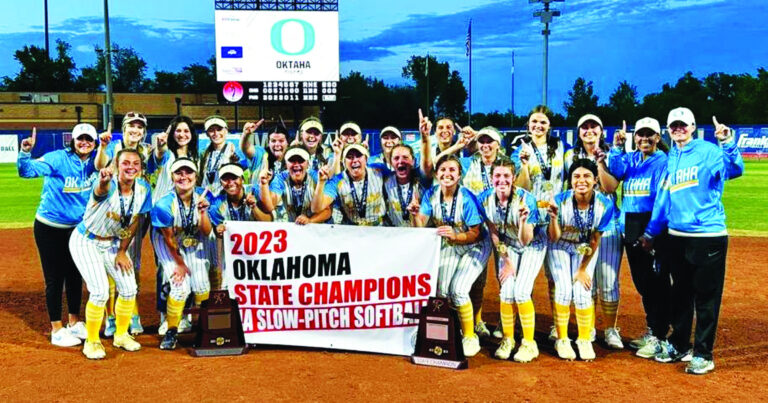 Oktaha Lady Tigers win Class 4A Slow-Pitch State title
The Oktaha Lady Tigers have always had great success and a flair for the dramatics but none compared to the championship game in Class 4A. The Tigers defeated No.6 Preston and No.2 Prague to get to the title game and it was a game for the ages. No.3 ranked Oktaha edged No.1 Pacola 11-10 to win the Class 4A title game at USA Softball Hall of Fame Stadium. The Tigers ends the season with the state title and an impressive 28-7 record.
"The feeling is so unreal. We went into the game knowing that we had to play together because they had already beaten us twice this season. We already knew we were academic state champions, and our coach had never won state and academic state.
We wanted it for her just as much as we wanted it for ourselves and the school. Oktaha is more than just a team. We are a family. We definitely had the loudest fans and the biggest support system. We had everything it took and it took everything we had. In the first game we were down 8-2 in the bottom of the 7th. Our team never once gave up on each other and we had each other's back no matter what. We ended up winning 9-8. That's what being a Tiger is all about," said MacKenzie Eaves.
Oktaha's day started with a seven-run bottom- of-the-seventh rally to down Preston 9-8. The Tigers scored all their runs by hitting homeruns in a 5-3 win over Prague. Pocola tied the game with two sacrifice flies in the third. After Oktaha eased ahead 6-5 in the top of the fourth, the Indians went back up 8-6 in the bottom of the inning on a three-run homer by leadoff hitter Kylee Smith, who went 3-for-4 with two homers, a double, four RBIs and four runs scored.
Oktaha answered with another five-run inning in the fifth, recording seven hits (including doubles by Peyton Bryan, Kirsten Berry and Ryleigh Bacon). Cambree McCoy's single to right-center scored Bacon to put the Tigers ahead 11-8 and they never looked back as they topped the No.1 team in the land for the state championship.