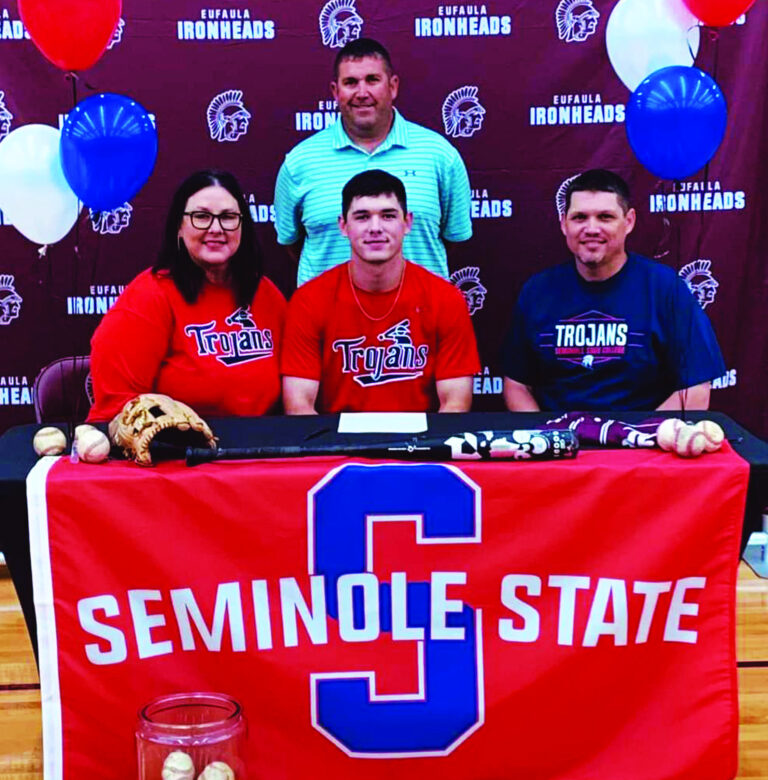 Ironheads fall in regional championship
The Eufaula Ironheads (19-17) saw their chances of going to the state baseball tournament fade away as the Cascia Hall Commandos defeated the Ironheads 10-0 on Sunday at Bixby. Eufaula struggled throughout the game at the plate but committed zero errors.
The Commandos scored a run in the first inning but opened the flood gates in the second inning scoring seven runs and added a pair of runs in the third inning and never looked back. Hayden Robinson took the loss for Eufaula from the pitcher's mound. Robinson lasted nearly two innings, allowing eight hits and eight runs while walking one.
Carson Luna went 2-for-2 at the plate to lead the Ironheads.
Eufaula started the tournament on Thursday with a 12-0 victory over the Eagles. Draven Gragg was sensational on the pitcher's mound as he went five innings, allowing zero runs on two hits, striking out eight and walking one in the shutout victory.
Luke Adcock led Eufaula from the plate going 2-for-3 with three runs, Luna went 2-for-3 with a pair of RBIs and a run scored and Brett Pippenger went 1-for-2 with a run scored.
On Friday Eufaula dominated the Valliant Bulldogs 7-0. Adcock was the winning pitcher going seven innings, allowing zero runs on one hit, striking out seven with zero walks. Hayden Robinson went 2-for-3 with an RBI and Carson Luna went 1-for-2 with an RBI and run.
On Saturday Eufaula lost to Cascia Hall 9-0. The Ironheads had no answers in trying to stop the high-octane offense by the Commandos. Cascia Hall scored runs in the first, third, fifth and seventh innings while Eufaula was held scoreless. The loss set up Sunday's match-up.
"I'm very proud of this team and what we achieved this season. We played great teams throughout the season and we overcame adversity that brought us closer together and bonded this team. This is a special group of seniors and I wish the outcome would have been different but I'm honored to have coached them and this team. They always represented Eufaula with class," Eufaula head baseball coach Josh Luna said.