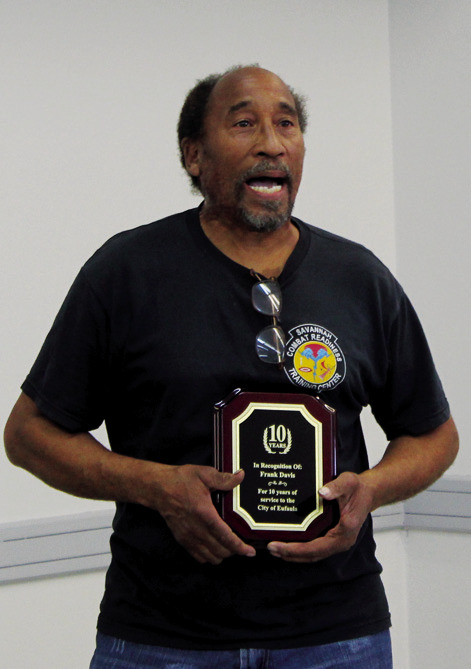 Council in stalemate over filling Ward IV seat
Special meeting called for Thursday, May 4
The City Council on Monday failed to reach an agreement on who will replace Ward IV councilman Dan Kirby, who resigned last month.
A special meeting was set for 5:30 p.m. Thursday, May 4, to further discuss the issue in an attempt to resolve the impasse.
The council had two basic options – select a person from a list of five people who applied for the vacancy or call a Special Election for Sept. 12 and let the voters decide.
With only four council members present due to the vacancy, when it came time to vote they were deadlocked.
Mayor Todd Warren and Ward III Council Member Jamie Upton voted to choose Emma Watts to fill the empty seat.
Newly elected Vice Mayor Josh Cummings and former Vice Mayor Nancy Mouser opted to hold a special election and let the voters make the decision.
Neither side would budge. City Attorney Kay Wall said the council would have to make a decision one way or another and if it failed to reach a consensus, in her opinion, then by default an election will be held.
Watts said she wasn't upset by the deadlock, only confused.
"I couldn't understand everythng they said. They need a microphone or speaker," she said. "But its my understanding when somebody resigns the council can appoint somebody but after the term runs out they have to run for election."
The Ward IV seat's term will end in April so whoever fills the seat, that person will have to run again.
"I haven't decided if I will run," Watts said.
Trash collection cost to increase The City Council agreed that Sue's Recycling deserved a rate hike. Since Sue's took over trash collection services seven years ago it hasn't had a rate increase, but the cost of their operation has skyrocketed.
"The rate increase requested translates to approximately a 20% monthly increase for residential customers and approximately a 2530% increase for commercial customers," City Manager Jeb Jones said.
Taylor Smith, head of Sue's, made the request for an increase at the April council meeting.
"Disposal costs have risen an average of 61% between the two closest landfills to Eu- faula. Diesel costs are up 69% and labor costs are up by 34%," Smith said.
The stumbling block at that time was how the increase would impact the city's elderly and disabled customers.
The council tabled the request until this month's meeting to give Jones the chance to negotiate how the rate increase would affect the elderly and disabled.
"Mr. Smith agreed to add a 95-gallon cart to the elderly/disabled service rate. The pricing for the 65-gallon cart will remain $8 per month and they added a 95-gallon cart to the Elderly/ Disabled pricing, which will be $12 a month," Jones said.
Some 167 customers fit into the elderly/disabled category.
For the typical residential customer the increase will go from $12 to $14.50 per month.
Anyone who feels they qualify for the elderly/ disabled category and would like to apply should take their proof of age and disability to city hall and fill out an application.
Citizen awards
Outgoing Ward I Councilman Frank Davis was recognized for his 10 years of service to the city and businessman Zach McQuay was honored for his many contributions to the city.
Both received City of Eufaula Citizen Excellence awards. "On behalf of the council we would like to thank you for your tremendous sacrifices during your 10 years on the council," said City Manager Jones. "You have benefited the citizens and always made yourself available. We were blessed to have you on the council."
Mayor Warren said, "You've done an excellent job. It has been an honor."
Davis thanked the citizens of Eufaula for giving him the opportunity to serve.
"You made me. I didn't make myself," he said. "Without your support I could never have done this. But there is a lot more work to be done."
He gave the council a few words of advice.
"Be humble, be honest and be faithful," he said. "And don't make promises you can't keep."
In other business, Vice Mayor Nancy Mouser, who ran unopposed for her Ward II seat, was sworn into office.
One item of business was for the board to elect a mayor and vice mayor.
Mouser made a motion to re-elect Warren as mayor and newly elected councilman Josh Cummings as vice mayor.
The council agreed.
Progress on new fire station
Jones announced that J&S Construction of Vinita had the low bid of $145,800 for the site/ pad and concrete work for the new fire station, to be located on cityowned property on west SH 9 near the middle/ elementary school complex.
The low bid for the building itself came from Superior Steel Building Mfg., in Eufaula in the amount of $116,538.
The council voted to accept the low bids.
Jones said the combined total of the concrete and building work amounts to $262,338, or 44 percent of the city's $596,000 budget for the project.
Sewer project underway
With the city's water project all complete, work is now beginning on the sewer system.
Jones told the council that on April 18 he attened a meeting of the Muscogee Creek Nation, Oklahoma Water Resources Board and Indian Health Services to discuss America Rescue Plans Act (ARPA) funds for the sewer project.
"MCN received ARPA funds that they are investing in communities within their tribal boundaries, and Eufaula was chosen to receive funds," Jones said.
As a result, Eufaula will receive $400,000 from MCN, $400,000 from OWRB, and $204,000 from IHS for a total of $1,004,000.
"All combined, the confirmed funding for our sewer project has reached $5,259,000, with an additional $700,000 in potential grant funding waiting for approval," Jones said.