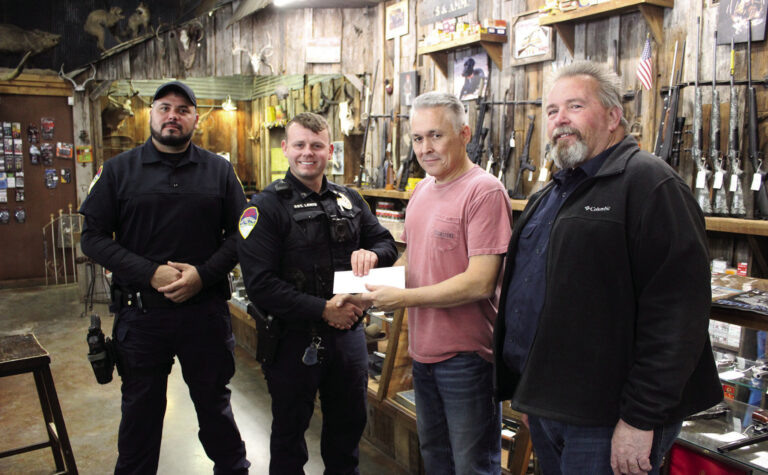 Police Department nears $20,000 goal for K-9 unit
Upcoming donation expected to put it over the top
A fundraiser by Brent Daniel of Hard Cash Pawn on Nov. 3 brought in $1,150, which put the goal of $20,000 for a Eufaula Police Department K-9 near the top.
Police Chief David Bryning said in October the department had raised $17,156.15.
Combined with Daniel's donation of $1,150, the total cash raised amounts to $18,306.15.
That puts the fund driver $1,693.85 short of the goal.
However, Bryning said Monday that Tim Whitt, owner of Pied Piper Pest Control in Eufaula, plans to donate enough money to reach $20,000 or more.
The chief expressed his gratitude to Whitt and all of the others who are making the K-9 unit possible.
Lake Dog owners John and Shari Wilkins announced that they had raised $9,276.11 as part of their annual drive to raise money to support K-9 officers.
That amount is divided between the Mc-Intosh County Sheriff 's Department and the Eufaula Police Department.
Each gets $4,638, but that isn't all cash. Much of it is food and other items that will benefit the dogs and trainers.
Bryning has moved forward with his plans for the K-9 unit.
Officer Paul Brown, with his dog Kilo, and Officer Jordan Pryor, with his dog Niko, have been assigned to the unit. They will begin handler training on Jan. 2 and be certified by the end of the month.
The owner of Hard Cash Pawn said he was overwhelmed with calls for the pork sandwiches, chips, drink and homemade cookies, which sold for $8.
He sold over 200 sandwiches, all of them to businesses on Main Street, which were delivered between 11 a.m. and 1 p.m. on Nov. 3 by police officers.
"Next year I need to buy more pork," Daniel said.