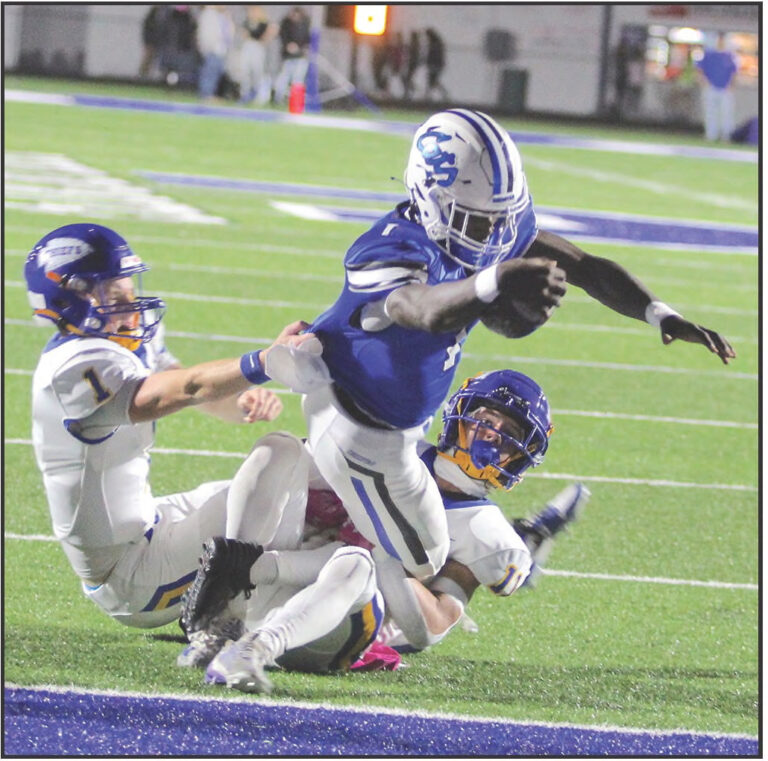 Berryhill's quick start seals 40-28win over Wildcats
Berryhill scored quickly in the first half to earn a tough 40-28 road win over the Checotah Wildcats (6-3, 3-2- 3A3) at Ray Grandstaff stadium. The Wildcats gave up two big touchdowns early in the game and took a 20-7 lead in the second quarter. The Wildcat defense began to settle down and keep the Berryhill offense in front of them. Dallas Carter Carter and Dylan Robinson each had eight tackles and Elijah Thomas led the team with nine tackles.
The Wildcats began to move the football and before long it was a 33-28 game in the fourth quarter. Kaden Mitchell rushed for 109-yards on 16 carries as Checotah finished with 158-total rushing yards. Kamden Miller, Roman Westbrook and Jonah Marshall put the pressure on Berryhill's backfield. Keith Mc-Guire, Lane Elliott and Jaxton Jones also played well for the Wildcats defense. In addition to Alex Moffitt and Hayden Reynolds.
Checotah quarterback Jacob Jones continues to throw the ball with speed and accuracy as he finished with 195 yards passing and two touchdowns and ran the ball six times for 35-yards and a touchdown.
Elijah Thomas was great on both sides of the football. He finished with five receptions for 109-yards and two touchdowns, a rushing touchdown and ran back a kick 70-yards for a touchdown.
Checotah's effort in the second half was impressive but mistakes in limiting fumbles and plays for a loss played a factor in the game. Jones made several quarterback hurries that forced Berryhill to adjust their offense.
Checotah will have a bye-week this week before playing Stigler in the regular season last game.