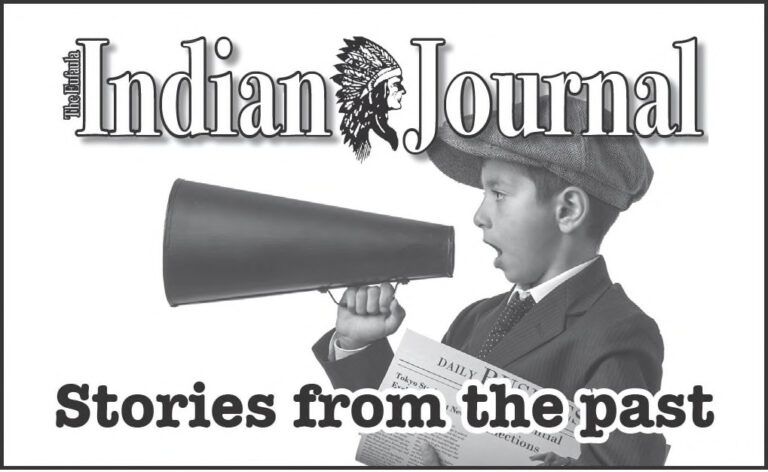 Indian Journal Stories from the past
142 YEARS AGO
In 1928 Congress bylaw set apart what is known as the Indian Territory for the sole occupation of certain Indian tribes, then mostly living in States east of the Mississippi. Nearly all of the land was patented and sold to these people, or fee-simple title guarantee. Title passed from the United States, and the government would have no more right again to dispose of it than it would the property of any citizen.
Most of these tribes have been induced t form government modeled after our Territorial form, and under them are progressing rapidly.
At the close of the late war the government induced several of these tribes to sell part of their lands for the occupancy of other Indian tribes who needed homes or were being thrust out of the adjacent states by squatters.
The laws of the United States make it a penal offense to enter that Territory. The President has issued his proclamation against it. It may therefore be taken for granted that there are no law-abiding, respectable emigrants engaged in this conspiracy for invasion.
PANAMA CANAL
New York, Jan. 5 – The American Panama Canal Committee today received the following cablegram from Paris: "The preparatory expedition composed of engineers and skillful mechanics, left Havra today for the Panama direct, to commence survey and operations immediately."
A large number f mechanics and laborers, quantity of machinery and large supply of provisions has been ordered in New York and New Orleans, for immediate shipment to the scene of operations.
Telephone Possibilities
The Cincinnati Directors of the People's Telephone Company have just learned that their electricians have succeed in solving a most difficult question. By a new invention a circuit automatic repeating system for the transmission of messages to any distance has been provided. By its means, as ascertained by experiments carried on in New York and Philadelphia, the vibrations of the articulate human voice can be converted from New York to San Francisco with the same ease with which they are now conveyed from one part of Cincinnati to another.
117 YEARS AGO
Friday, October 26, 1906
VOTE
Let every democrat see to it that he casts his ballot on election day. You cannot do anything that is of more importance to you than by voting on the side of good government.
HOW INDIANS SHOULD VOTE
Muskogee, I. T., Oct. 10, 1906, Mr. Charles Carter, Secretary Oklahoma City, O.T. – The Indian people ought to support the Democratic ticket, first, as a rebuke to the Republican party for its ill treatment of them.
The Republican party, by the treaty of 1866, took away, without compensation, by the compulsory treaties of that date, the entire west half of their great domain, now comprising the territory of Oklahoma. This property was worth over one hundred millions. This property was taken away from the Indian people of the Five Tribes, and given to others, without compensation to the Indian people, except a miserable pittance which in no adequate way repaid the Creeks, the Cherokee, the Choctaw, the Chickasaw and the Seminole.
News Items
– Miss Winnie Turner is home from school at Muskogee to spend Sunday with her parents.
– Miss Pearl Blake is home from South McAlester where she has been working as a telephone operator.
– Mesdames Sudie Burdett and Kate Wilson spent several days last week at the Dallas Fair, returning home Tuesday.
100 YEARS AGO
Thursday, October 18, 1923
CANADIAN RIVERS RUN WILD 500 Feet of Rail Track Carried Off by Deluge Highway Under 10 Feet of Water
Both the North and South Canadian river, near Eufaula, are running wild and have reached the highest water mark since 1908.
Five hundred feet of railway track on the M.K.&T line just north of the South Canadian has been washed out and all train service from the south has been discontinued.
Jefferson Highway near the North Canadian bridge is standing under seven to ten feet of water, and all auto traffic is cut off from the north.
To The Journal Readers
We seldom offer excuses of any kind for the short comings of this paper, but on account of the high water breaking the gas line that furnishes fuel to the citizens of Eufaula and the gas going out just at the time we began reading proof, and as our typesetting machine doesn't work without gas, it is impossible for us to correct the proof of the type that goes into this week's paper, so there will necessarily be a number of errors that we ask our readers to overlook. – PUBLISHER
EUFAULA SWEDES TO MEET HASKELL FRIDAY AFTERNOON Six teams of the Eastern Oklahoma high school circuit will meet in conference struggle this week which is expected to produce drastic changes in the championship chase.
The hardest battle will probably be at Haskell when Coach Hansard's Eufaula Swedes clash with "Shine" Martin's Haskell crew.
• ••••
75 YEARS AGO Thursday, October 21, 1948
School Improvement Bonds to be Up for Vote Again
The Board of Education will resubmit a $25,000 show improvement bond issue to the voters of the Eufaula school district in the November 2 general election.
Defeated twice earlier this year in special elections because of light voting, school officials have been urged to bring the issue to a vote again in the general election when supporters feel sure it will receive the vote needed for passage.
Highway Bids Are Approved
The Oklahoma Highway Commission has approved bids n three major improvement projects on Highway 9, including 7 3/4 miles asphalt surfacing west of Eufaula.
Hanna Man With Army in Ryukyu's
Private Francis F. Leeper, son of Mr. and Mrs. James Leeper, of Hanna, has been assigned to duty with the 8104th Service Detachment, a unit of the Army of Occupation in the Ryukyu Islands.
He will work as a medical corpsman at the headquarters dispensary, Ryukyu's Command.
Pvt. Leeper enlisted in the Army in 1942 and earned the combat medic's badge as a corpsman with the 100th Infantry Division in Germany.
This is his second tour of overseas duty. His wife, and their son, Francis F., Jr., 1, live at Hanna.
50 YEARS AGO
Thursday, October 25, 1973
Eufaula Marching Band Wins First Place At Music Festival
The Eufaula Marching Maroon Band, under the direction of Mr. Roy B. Young, has been named winner of First Place in Field Marching and Second Place in Street marching at the Third Annual Bi-State Music Festival at Tishomingo.
TAKE NOTICE IRONHEAD FANS!
Rusty Griffis was chosen by the Tulsa World as High School Defensive Player of the Week for his outstanding performance against Sallisaw, stated John Johnson, president of the Eufaula Quarterback Club.
Local Jaycee Chapter Halloween Carnival Planned Local Eufaula Jaycees Chapter is sponsoring a Halloween Carnival and Spook House to be held on Halloween Night, Oct. 31. Many different types of activities will be found at the Carnival to be located at the Community Hall Building.
• ••••
25 YEARS AGO
Thursday, October 15, 1998
Salaries Dominate Council Meeting
Salaries dominated discussion at a packed Eufaula City Council meeting Oct. 5 The council approved a request by Acting Mayor Dean Smith to decline the salary he is entitled to. Although he is eligible for both salary and expenses while acting as the city mayor, Smith has asked to receive only the $1,100 monthly expenses portion. The council approved placing the unused salary into the public works budget.
Chamber Committee Begins Membership Drive A membership drive committee met Tuesday, Oct. 13, in the office of Maggie Adams, president of the Eufaula Chamber of Commerce.
With sleeves rolled up, the group tackled the chore of stuffing and mailing more than 300 membership dues notices and memberships information. There are 90 active members, which also includes those from Checotah, Adams said.
"We're trying to get dues arranged so they come due at the first of the year," said Dr. Kevin Bradley. "That will help the Chamber to establish a budget."