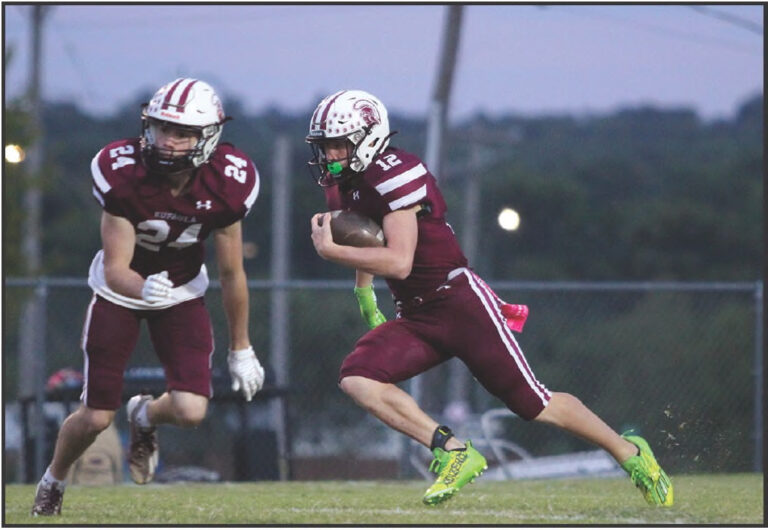 Eufaula buries Wilburton Diggers
The Eufaula Ironheads dominated the Wilburton Diggers 5815 at Paul Bell Stadium in Eufaula. Eufaula jump out with their high-octane offense from the opening kick scoring 41 points in the first quarter.
"Started fast and got a lot of momentum on them. They couldn't recover from all phases of our play clicking together. Our offensive and defensive lines were the nucleus of our victory. Facing a 3-yards and a cloud of dust team. We used up the clock and didn't have one punt all night. They haven't had many points scored in their games due to them controlling the clock and our defense played extremely well up front and we tackled well as a team," Eufaula head coach Larry Newton said.
The Ironheads defense held Wilburton to -56 yards rushing 30 net yards. On the other hand the Ironheads ran over, around and through the Diggers racking up 203 yards rushing. Ledger Folsom was 4 of 9 for 65 yards and three touchdowns. The Ironheads led 58-7 at halftime.
"It was a big win for us to stay undefeated in District play. The success of our rushing attack falls on our offensive line and tight ends. Those guys up front have been very physical, moving bodies and finishing them off with pancake blocks. Those guys have been very instrumental in the success of our running game. They have been creating nice running lanes for our running backs and quarterback to run through," Eufaula offensive coordinator Josh Luna said.
The rushing attack of Lee, Hunter, Folsom, Price, Watkins and Letcher racked up over 200-yards on Wilburton. Eufaula will travel to Antlers on Friday with a 7 p.m. start.