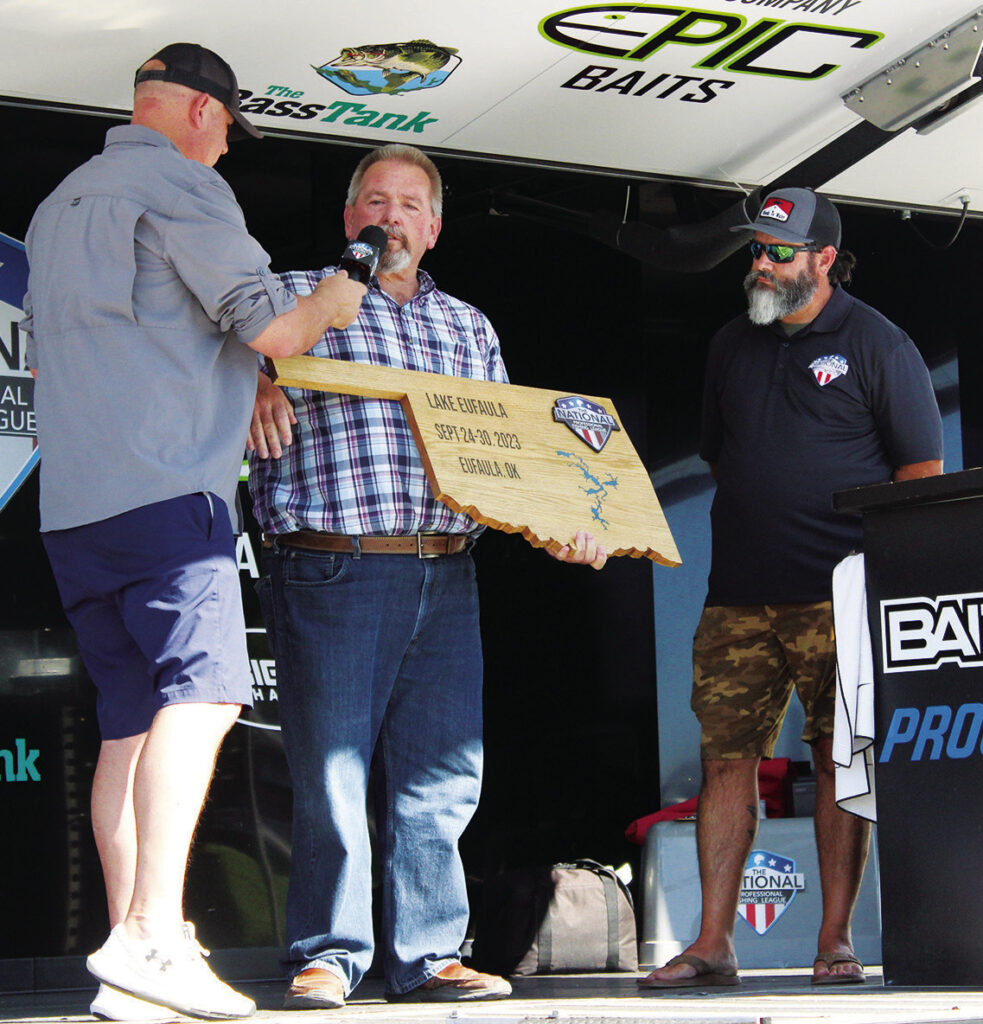 NPFL winner earns $100,000
Louis Fernandes of Santa Maria, California took the grand prize of $100,000 in the National Professional Fishing League tournament held on Lake Eufaula Sept. 28-30.
But the new NPFL Champion didn't win easily.
His total weight of fish caught during the three-day event was 39 pounds and 9 ounces.
Will Harkins, of Blairsville, Georgia, had the same weight count.
The winner was decided by the angler with the largest fish.
Fernandes' was 4 pounds 14 ounces, Harkins' was 4 pounds 4 ounces.
So Fernandes took home the money and the coveted NPFL Shield.
The tournament had few complaints, but for the weather.
At the Crappie Masters National Tournament two weeks ago, Sept. 21-23, the major complaint was rain, lightning and wind.
More than 70 anglers this past weekend had to deal with 90-degree temperatures that seemed closer to 100 degrees.
Brad Fuller, NPFL president, said ""We'd rather have the rain than heat. We'd rather have rain over heat any time."
Vice President Paul Benson said Eufaula Lake is excellent, and the league will be back for another tournament soon, if not next year then in 2025.
"It's the first time we have ever fished Eufaula, Oklahoma. As far as the event does, running the event, this is a first class facility. The town itself is great. Eufaula is a hidden gem," Benson said. "It has great restaurants, great shops – our wives have had a good time. It truly has been an enjoyable experience. The lake is beautiful, the weather, overall, was beautiful. We have great expectations for the future."
Fuller noted that the economic impact to the town made by the tournament amounts to about $695,000.
News about Eufaula is spreading fast in the fishing world.
So far there have been 18 tournaments on the lake this year, with six more to go.
The year will end Nov. 11-12 with the annual Lawter & Associates tournament which will have 400 anglers.
Next weekend, Oct. 7-8, the Future Bass Trails tournament (70 boats) will be held followed by Oklahoma Bass Nation on Oct. 15 (50 boats), Major League Fishing Oct. 16-20 (250 boats), OKC Fishing Team Trail Oct. 21-22 (35 boats), and Extreme Fishing League (XFL) Oct. 28-29 (200 boats).
City Manager Jeb Jones praises they fishing development.
"This is what we've been after," he said. "(The NPFL) did a round table discussion, where they sat down and talked to anglers and to the public.
"What Johns (restaurant) told me is their business tripled when the tournament came to town."
Tournament officials presented Jones and the City of Eufaula with a plaque in gratitude for how well the anglers and the organization were treated.
"We are happy the NPFL was here," Jones said. "It's great to have the opportunity to host an event like this. We look forward to you coming back. We appreciate everything you have done for our community."