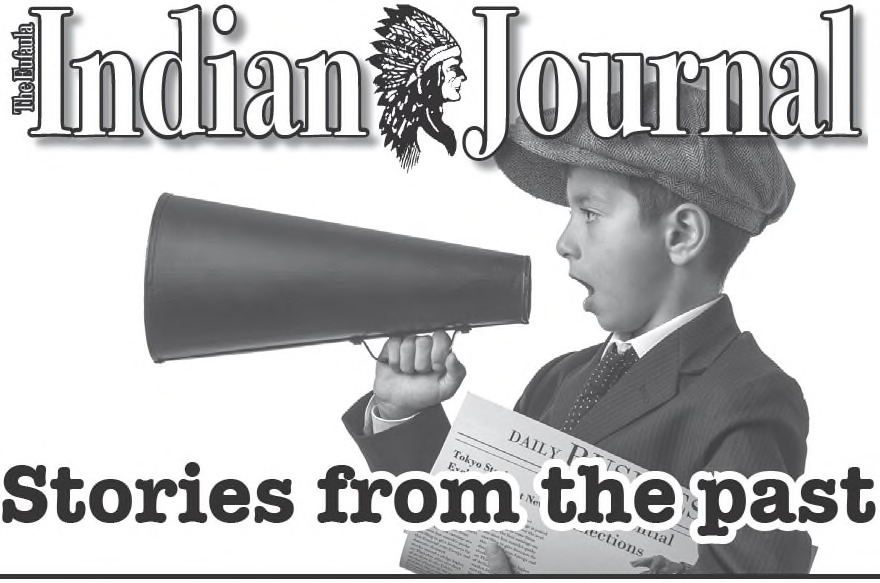 Stories from the past
The Oklahoma movement is an utterly dishonest and inexcusable raid and the raiders richly deserve all the punishment that the Cherokees can inflict upon them.
"Some features of the Oklahoma business are being overdone. The insinuation that the raiders are made up of unfortunates who have been enduring slow starvation on Kansas farms is a reflection on the lands of that state not likely to be kindly received.
The frantic eagerness of the emigrants to settle on lands not open to settlement excites the suspicion that they are acting in the capacity of a lobby at long range for effect on congress.
Would-be Settlers, Soldiers Encamp
From the Chicago Times
All is quiet on Shoo-Fly creek as settlers and soldiers have returned quietly to camp today the monotony broken at intervals by the detail of squads going to town seeking liquid and other refreshments to stiffen the Oklahoma boom.
There have been crowds of visitors in camp from the surrounding country and a considerable number of new recruits.
Emigrants Demand Congress Act From the Des Moines State Register
"It is not all clear why the emigrants, who have mustered in military array under one Captain Payne and have "demanded" of the president that they be let all enter the Indian Territory.
By solemn treaty obligations the land in the Indian Territory belongs to their Indian occupants. These are not savage tribes, but industrious people who cultivate the soil they own; who have villages and schools and courts of justice and all that appertains to a civilized Territory.
• ••••
117 YEARS AGO
Friday, October 12, 1906
News Items
– The Oklahoman is putting in a $25,000 Goss perfecting press, which may be taken as evidence that democracy is in an expanding condition.
– A St. Louis judge has decided that starving a wife is not sufficient cause for divorce. The iwfe in such cases should try the effect of starving the husband.
– Sturms Magazine has been removed from Tulsa to Oklahoma City. If Sam Jones' opinion is to be accepted, the people in the latte city stand in need of all the literture they can get their hands on.
– The Wewoka Democrats editor congratulates himself that he lives in an inland town, where his greatest source of danger is that of being pushed off the sidewalk by a horse, cow or hog.
TAFT AND SHAW
President Taft and Treasury Secretary Shaw will soon come to the Indian Territory to make speeches for the republican party. Is not this a confession that the party is in desperate straits?
Taft is supposed by the people to be in Washington attending to his duties or looking after Cuban affairs. The same with Shaw. He is head of the treasury department and spend his time making wild and contradictory speeches throughout the country.
More Explosion Victims
Bluefield, W.Va. – Twenty-nine bodies have been recovered from the west fork of the Pocahontas coal company mine at Pocahontas, Va., and a conservative estimate places the total number of dead at 70. The rescuing party reached the scene of the explosion but the immense amount of debris and wreckage has hampered the search for bodies.
• ••••
100 YEARS AGO
Thursday, October 4, 1923
Mother of Exie Fife Undergoes Operation
Mrs. Minnie Fife, mother of the richest Indian oil princess in Oklahoma, Exie Fife of Eufaula, underwent an operation in the Oklahoma Baptist hospital in Muskogee.
She was returned to Eufaula this week and is said to be resting well at the home of her daughter here.
HANNA RECALLING FIRST MOTOR CAR HANNA – Like "my Grandfather Squeers" in Rileys poem, who lied to tell how he, "used to shoot bears where the courthouse stands now," the older residents of Hanna enjoy reminiscing of the day when the first automobile came to town.
All agree that the great event occurred in 1915. The man of the hour was none other than State Senator Clark Nichols, now of Eufaula, who was then practicing law in Hanna.
History reports that the man who first rode a bicycle around the Times Square half a century ago was arrested by the police for disturbing the peace, but either by virtue of the larger tolerance of more modern times, or the essential good nature of the citizens of Hanna, Nichols suffered no such harsh treatment even though the motor car disturbed the whole countryside.
WIDE SEARCH FOR MAN WHO ESCAPED FROM OFFICERS One of the biggest manhunts in this section in many years is in progress for Dallas Sewall, a young Mexican, who escaped on Wednesday night of last week from Sheriff M.B. Moore, while he was being secretly brought to Eufaula to be arraigned on a charge of criminal assault.
With heavily armed men hunting for the fugitive in McIntosh, Muskogee, Okmulgee, Okfuskee and Pittsburg counties, Sheriff Moore believes that Sewall cannot escape.
75 YEARS AGO
Thursday, October 7, 1948
Asher is Named Peace Justice
James J. Asher, Eufaula insurance man, has been appointed justice of the peace of the Eufaula district, to succeed O.L. May, who died Sept. 25.
Indian School to Enter Float in Centennial The Eufaula Boarding school will have a float in the Centennial parade and participate in the entertainment program at Muskogee next week, Miss Eva Lewers, principal, announced Wednesday.
Miss Lewers said the Centennial board is expecting 6,000 people to participate in the parade.
Reburial Set For Hanna Hero
Reburial rites for Andrew L. Fisher, young Hanna soldier killed in World War II, will be held at 2 p.m. Sunday. Services will be conducted by the Rev. L.L. Osborn in the Assembly of God Church.
Born Feb. 12, 1926, in Lamar, young Fisher had lived in Hanna for several years before entering the armed forces.
A member fo the infantry division, he was killed in action in the South Pacific, June 1,1945, just four months after he was inducted.
• ••••
50 YEARS AGO
Thursday, October 4, 1973
Police Chief to Get $650 A Month
The Eufaula City Council met Monday and voted to give raises to the police department.
Policemen will be given a pay raise that will bring their salary to $500 per month.
A rookie policeman will make $450 per month and after they get their 120 hours of schooling and license they will be raised to $500.
The salary of the police chief was raised to $650.
Reception to Honor C.L. Follansbee
In celebration of C.L. Follansbee Day, as proclaimed by Mayor Tully O'Reilly, the Chamber of Commerce will host a drop-in reception honoring Mr. Follansbee on his 87th birthday at the Community Hall on Oct. 18 from two to four in the afternoon.
Texas Firm Eyes Eufaula For Portable Horse Stall Plant
Hosstown Manufacturing Company, a Waco, Texas firm which builds portable horse stalls, is considering Eufaula as a site for a plant, it has been announced.
The firm manufactures stalls for all weather for large breeders, show barns, race tracks, training stables, veterinarians and individuals wtih only a few horses.
25 YEARS AGO Thursday, October 1, 1998
Johnson Sentenced
Following a 14-hour series of hearings that began at 3 p.m. Friday and lasted until 5 a.m. Saturday, District Judge Steven Taylor denied motions to grant former Eufaula Mayor Joe Johnson a new trial and instead sentenced him to 10 years in prison.
Before a packed courtoom of approximately 100 individuals Taylor denied a request for an appeal bond and remanded Johnson to the custody of the McIntosh County Sheriff's Department.
Mayoral Candidates File
Five candidates filed for the office of Mayor of Eufaula during the three-day filing period held last week.
Filing were Bill Day, James Robert Lane, Walter McDonald, Scott Ogle and Tom Pickering.
However, Ogle was determined to be ineligible since he had not been a registered voter in Eufaula for the required six months.
Body Found Near Rest Stop on 1-40
The body of a Mississippi man was discovered near Interstate 40 last Tuesday. His death is being investigated as a homicide, according to officials.
A passing motorist spotted the body mid-morning. He was identified by McIntosh County Sheriff Bobby Gray, as Gary Duane Jones, 51, of Tupelo, at the Pierce Road exit, approximately 10 miles west of Checotah.