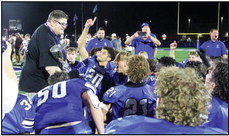 sports
September 20, 2023
Wildcats give praise to the Lord
The Eufaula versus Checotah football game is always known to be emotional and physical. Friday night Checotah cruised to a 54-27 victory to win the 108th meeting and now leads the series 54-53-1. As I addressed the team prior to presenting them with the McIntosh County Championship trophy, the team took a moment to praise God.
"We owe everything we do and have to the Lord," Checotah senior Jaxon Jones said as he pointed to the heavens.
Then the entire team leaped onto their feet giving thanks and it was truly a remarkable sight to see. These young men who came together from different backgrounds, meeting in one place to practice toward one shared goal and they achieved it. It was a beautiful feeling to be a part of.
"You should have heard the halftime speech by Jaxon. It was jubilating and vibrant as he praised the Lord and prayed for the team," Checotah assistant coach Tom Butler said.
Congratulations to the teams and their staffs for showing good sportsmanship on the field and characteristics that all of us should admire.
1-2-3 break.