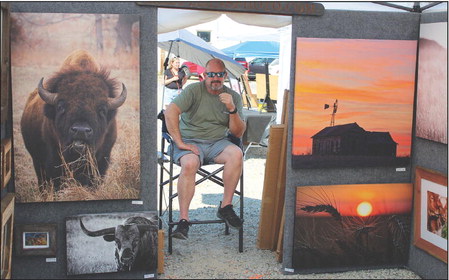 Wine & Art Festival ends on high note
Next year's event being planned
The dust hadn't cleared Saturday on this year's Vision Eufaula Wine & Art Festival before Karen Weldin was making plans for next year's event.
The festival included 30 booths, featuring works by some of the best artists in the state.
An estimated 600 fans attended the festival, which also included kiosks for wine and beer and a number of food trucks.
"I am very pleased," Weldin said as participants began taking down their art displays. "Everything was very positive. People were very pleased with the turnout. A lot of people were buying art. I think the day turned out wonderful."
So wonderful, she said, plans are already being made for next year's festival.
"We've already set the date. We're going to make it a tradition for the weekend after Labor Day. Next year it will be on the 7th of September. We're going to start recruiting now.
"Our goal is to go south until we can't go any further on Front Street."
This year's event was held at 150 N. Front St., the vacant lot south of Nelson's Feed & Seed.
Weldin bought the lot and hopes to grow the festival so that it will continue expanding south.
The first place winner in this year's art competition was David Billen, of Red Plains Photography in Edmond; second place went to Joanne Ballard of Oklahoma City, known for her wildlife art; and third place was won by Norma Sellers, Porum Landing, who placed first in last year's art competition.
A centerpiece of this year's festival wasn't on Front Street but on Selmon Road, between Front and Main.
Renowned Muscogee Creek artist Starr Hardridge created a 58-foot by 8-foot mural he named Friendship Dance, bringing the number of murals around town to a dozen.
"A lot of people were taking the tour of all the murals. Our trolley was running all day long," Weldin said.
She anticipates a new mural being created every year.
"I don't know if it will be that big, but we will come up with something next year," she said.
Another highlight of this year's event was a series of canvases depicting sketches by Jack Fowler of six famous people from Eufaula's past.
Fowler divided the sketches on the canvases into sections to create a "paint by the numbers" project.
Each canvas sold for $1,000.
Companies or individuals bought the unpainted canvases and following the numbers, people created works of art.
"I think people may have been apprehensive at the start, but when they got into it it was a lot of fun," Weldin said.
The paintings included the Selmon brothers, football stars Dewey, Lucious and the late Lee Roy Selmon; jazz man Charles Bracken; singer and performer Tsianina Redfeather Blackstone and Las Vegas businesswoman Sarann Knight-Preddy.
Weldin said the paintings of the Selmon brothers will be placed on the outside of the high school.
The others will probably be placed with individuals.
"I think the high school band members would like to have Charles Bracken's picture in the band room," Weldin said.
She said the "paint by the numbers" event also will return next year.
Top artists at this year's Wine & Art Festival were first place winner David Billen, of Red Plains Photography in Edmond; second place, Joanne Ballard, Oklahoma City, for her animal canvases; and third place, Norma Sellers of Porum Landing. Norma won first place in last year's event for her pencil drawings.