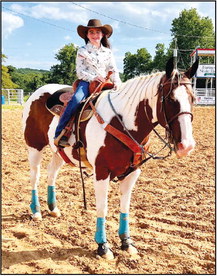 lifestyle
September 13, 2023
Pippa Jewel Carey 2023 All Around Grand Champion Jr. Division McIntosh County Horse Show
Pippa is 9 years old and a 4th grader at Stidham Schools. She is the daughter of Cody and Tasha Carey, Granddauhter of Joe Dan and Debbie Carey and Charlotte and the late Rick Rickman.
She won the horse show on her 15-year-old registered Paint horse Benji who was bred by Larry and Karen Armstrong of Eufaula, OK.
Pippa would like to thank the McIntosh County Fair Board for their generous donation of all the contestant prize money for the 2023 McIntosh County Horse Show.
A special Thank You to Jason McPeak for organizing the horse show and Billy Haltom for taking the time out to come and judge all of the horse events.