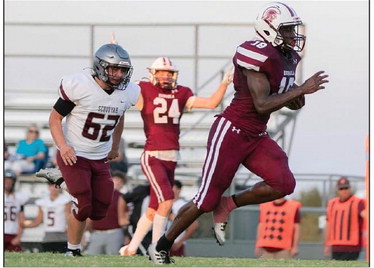 sports
September 13, 2023
Ironheads steamroll Tahlequah Sequoyah
outmatched Indians and set most of the starters in the second half as they rushed Tahlequah Sequoyah 443 t0 168 ancj outgained them in total yards from 472 to 240.
"We executed better across the field this week. We still have a lot of improvement to do but we're headed in the right direction," Eufaula head coach Larry Newton said.
Friday night was full of highlight plays by the Ironheads in the first quarter as Peter Lee broke open for a 61-yard touchdown run, Ledger Folsom had a 77-yard touchdown, Dresden Chiles showed his speed with a 28-yard score and Gavin Watkins sprinted his way to a 47-yard touchdown to end the quarter to give the Ironheads a 28-0 lead.
The second quarter was the same as Lee pounded the football in from nine-yards out, followed by Kaden Rice's 80-yard touchdown interception and another long score by Folsom, this time it was a 70yard touchdown run.
Even with all the big scores offensively, it was the defense that set the tone early for the Ironheads. Eufaula only allowed Tahlequah Sequoyah to score late in the fourth quarter when most of the third and fourth string players were on the field. The helmet-jarring hits and bone-crunching tackles by Eufaula wore their opponents down.
When Rice picked off an interception that went 80-yards, it was a 268-pound linemen in Draven Gragg that led the way in blocking all the way to the endzone.
It was an impressive win with many attributing factors and players. Folsom had seven carries for 175 yards and two touchdowns. This kid was explosive on both sides of the football.
O ther players that had big plays were Connor McAllister, Blayden Neil, Carson Luna, Jordan Ellen, Maddox Bridges, Rashon Watts, Simeon Hill, Da Da Shine and Jax Hickman just to mention a few.
"I'm proud of all the guys that played defense. It's always difficult to hold teams scoreless, but our starters did," Eufaula defensive coordinator Jeremy Gragg said.
The special teams unit had a big game also. Bryan Lynn was perfect on his extra points and he was exceptional defensively. There were times when Lynn kicked the football off and was the first player downfield to make the tackle.
The Ironheads' momentum carries them into next week's 108th meeting against incounty rival Checotah.