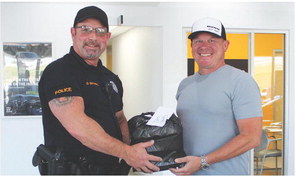 Fund drive for K9s kicks into high gear
Dunn Country donating $5,000 to the cause
The fund drive to raise money for local K9 units has received widespread support from the community.
Shari Wilkins, owner of Lake Dog and Their People, said that as of Friday $12,850 had either been donated or there have been verbal commitments for donations.
Wilkins has been a driving force for helping K9s for the past couple of years.
The amount received totals $6,600 and the amount committed is $6,260.
Friday was one of the most successful days of the monthlong drive.
One-in-a-Mi lner food truck, owned by Amanda "Bubba" Milner, prepared 140 boxed lunches for customers who pre-ordered the meals last week.
Milner, her daughter and mother prepared cheeseburgers, grilled chicken sandwiches and fiesta rice bowls.
Several city employees assisted in the effort.
Four police officers and Police Chief David Bryning delivered the meals between 10:45 a.m. and 1:30 p.m., with Milner delivering one late order at 6 p.m.
Bryning took an order of several meals to Dunn Country Chevrolet, where Cale Dunn accepted the lunches and committed to contributing $5,000 to the K9 cause.
Most of the deliveries were made in the downtown area, including the courthouse.
Fourteen meals were taken to Sam Wampler's Freedom Ford, formerly Eufaula Ford.
The meals were $10 apiece. Milner, whose food truck usually can be found at the food court on South Main Street, donated all of the ingredients as well as her labor.
Wilkins said Milner's grandfather was involved with K9s, which inspired her to help the fund drive.
Her efforts raised over $1,400.
Many other businesses and individuals in town have held fundraising events or have events planned or have made cash donations, including Stites Home Furnishings, Nicole's & Memes; E's Hideaway, Mama Tig's, Fox Place, Belt40, Lake Dog and Their People, Bank of Eufaula, MAPA, Zach and Angela McQuay and Dr. Edwin and Sandra Henslee and High Street Coffee.
Donations can be mailed to the City of Eufaula Police Department (P.O. Box 684, Eufaula, OK, 74432) or dropped off at Lake Dog and Their People (117 N. Main St., Eufaula, OK, 74432).