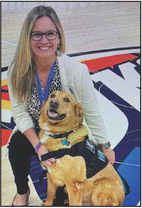 Eufaula graduate finds life's calling in helping others
Seeking Ms. Veteran America title
When Carrie Moore (formerly Carrie Andrews) graduated from Eufaula High School in 1993 she had no idea what to do in the future.
Her past had been spent with school ("I wasn't very good") and rodeoing ("I was Rodeo Queen in Jr. High.").
"I went through high school and had no idea what I wanted to do. I felt like I hated school, because I struggled to learn. I don't know if I had a learning disability or what. But, I looked for something to do after I graduated," said Carrie.
Born in Michigan, she moved with her family to Checotah when she was six and after two years they moved to Eufaula.
Her mother, Alice Andrews, still lives here, three miles west of town, past the white bull statue and left on a section line road.
Her father, Bill, a navy and army veteran, passed away in 2020.
Her sister, Amanda, teaches in Eufaula.
While for Amanda, school came easy, it didn't for Carrie. So she didn't know what to do with her life.
A "bad news boyfriend" helped her make up her mind.
"I knew I had to get away from him," she said.
She decided in 1996 to join the Navy, a decision that has made all the difference.
After becoming a Cryptologist, she was stationed at Ft. Meade Maryland, where she met her future husband, Matt Moore, a Marine who was a native of Moore, Oklahoma.
They had two children, daughter Alyssa, now 25, and son, Austin, now 19.
When the couple left the service they settled in Moore, where Matt is in cybersecurity and Carrie is into a lot of things, mostly endeavors to help people.
"I pretty much consider myself a veteran's advocate – non-profit. Nothing I do brings me money," she said.
She and Matt have a program connecting service dogs with veterans in need, at no charge.
They find the dogs in animal shelters and give them to a service person who is in need.
"We provide the veteran training, not the dog. We help the veteran find a dog who is compatible. You need to bond with the dog for them to start noticing things you need help with," she said.
Carrie herself has a service dog, Ruger, that trained himself to alert to a heart condition she has and anxiety issues.
She is trained in suicide prevention and intervention.
She is training to become a Veterans Service Officer, to be able to help veterans get the assistance they deserve from the Veterans Administration.
"I'll file paperwork for the veteran to get their disability claims. Most veterans don't want to deal with the VA," Carrie said.
Ms. Veteran America competition And she is running for Ms. Veteran America, which is sponsored by Final Salute Inc., an Alexandria, Virginia-based organization that provides suitable housing for homeless female veterans and their children.
According to the organization women veterans are 2-3 times more likely to be homeless than any other group in the U.s. adult population. And of those veterans, 70 percent are single mothers.
Carrie is among 20 competitors for the Ms. Veteran America honor, selected from 200 who competed in semi-finals in June in Orlando, Fla.
The finals will be in Orlando on Oct. 9.
This isn't a pageant. Half the competition is based on an interview; 25 percent is based on sponsorships and outreach activities and 25 percent on talent.
She needs to raise $5,070 for her part of the pageant, and she needs to find corporate sponsors to help support the cause of finding suitable housing for homeless female veterans.
Carrie has been spreading the need for shelters for the past several months, meeting with politicians and business people who are willing to listen.
"There are no female specific shelters for female homeless veterans in Oklahoma," Carrie said.
Their alternatives are sleeping on the streets, in a car or in housing that also has male residents.
"90 percent of females in the service have been sexually assaulted. They are not going to stay with males," she said.
Carrie says if she wins, she will be able to use her position to become even more active in finding shelter for the needy, and there is a lot of need in this state.
"We have five military bases in Oklahoma. I know we have a need here."