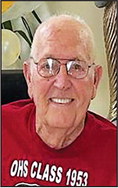 Obituaries
September 13, 2023
Donald Eugene Shotwell
Donald Eugene Shotwell, 88, passed away Wednesday, Aug. 30, 2023, at the Eufaula Manor Nursing Home.
Donald was born on Feb. 25, 1935, in Cushing, Oklahoma, to James Towne and Clarissa Exelma (Losey) Shotwell. In 1953, he graduated from Okmulgee High School.
Donald married Bonnie Jean Wells in Okmulgee on Aug. 8, 1953, and the two were married for 70 years.
He worked in the oil field and invented a tool for them. He owned his own wrecker service, Shotwell Wrecker, for 17 years. He also worked for the Okmulgee County Sheriff 's Department. Donald, owned a Belle Starr Marina and boat shop and was a pro bass fisherman for 30 years.
Donald owned a nursery and was a Bedouin Shriner and won a National Clown Competition.
His favorite and most important job was being a husband and father. He was a member of the North Fork Baptist Church, the Okmulgee Elk's Lodge, and the Optimist Club of Okmulgee.
Donald is survived by his wife, Bonnie Jean Shotwell of the home; daughter, Donna Shotwell of Eufaula, Okla.; sons, James Thomas Shotwell of Eufaula, Okla., and Johnny Eugene Shotwell and wife Sherry of Eufaula, Okla.; grandchildren, Shaney Ogle, Nicole Shotwell, Eric Cowen and wife Robin, and Steven Case Shotwell; great-grandchildren, Tanner Cowen, Alyssa Cowen, Lilly Cowen, Brooke Cowen, and Deja Shafer; great great grandchildren, Scotleigh and Fletcher.
He is preceded in death by his parents, James and Clarissa Shotwell; and siblings, Doris Warlick and James Gregory Shotwell.
A memorial service will be held at a later date.
Cremation arrangements were made under the direction of Hunn, Black & Merritt Funeral Home & Crematory of Eufaula, Okla.. Online condolences may be made to the family at www.hbmfuneralhome. com.