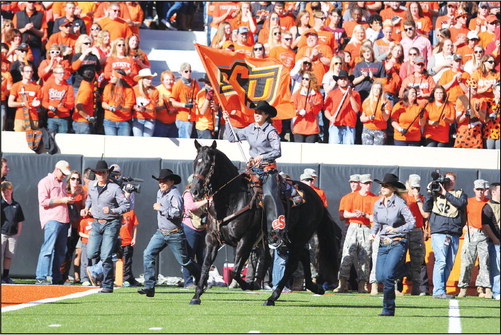 sports
September 13, 2023
Cowboys shoot down Arizona State Sun Devils
The Oklahoma State Cowboys (2-0) overcame one of the hottest games in Arizona State history — 104 degrees at kickoff, to win 2715. Garret Rangel threw a laser to a wide-open Brennan Presley on a 16-yard touchdown pass late in the game to seal the Cowboys victory. The Sun Devils scored first on a13-yard run by Cam Skattebo. The Cowboys answered with a short yardage run by Ollie Gordon to tie the game.
OSU pulled away in the second half outscoring Arizona State 14-0. The Cowboys out gained Arizona State on the ground 113-110 and went 22-32 for 191 yards passing. Oklahoma State's average field position in the game was its own 39-yard line. Arizona State's average field position was its own 23-yard line. Four OSU possessions started in ASU territory. OSU held the Sun Devils to 1-for-5 on fourth down, the most fourth-down stops by the Cowboys in a game since Oct. 13, 2012, when they held Kansas to 0-for-5.
OSU played three quarterbacks in the contest, with Alan Bowman getting the start and playing the first four possessions, Gunnar Gundy coming on second and playing the next four possessions and Garret Rangel playing the final four possessions. Each Cowboy QB led a touchdown drive.