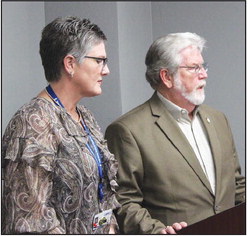 Health & Wellness centers extends hours
The Eufaula and Checotah Health & Wellness centers have increased their hours, with appointments now available after hours and on weekends.
The new hours of care are: Monday -Thursday – 5:30 p.m. to 9 p.m.
Friday – 5 p.m. to 9 p.m.
Saturday & Sunday – 9 a.m. to 7 p.m.
The additional service is made possible by a partnership between Health & Wellness centers and Hamilton Health Box.
The new service is called HWC Urgent Care.
The announcement of the changes was made at a gathering of dignitaries, employees and guests at the Eufaula center, 111 Forest Ave., Suite A, Eufaula, on Monday, Aug. 7, during National Health Care Center Week.
Dr. Tony Hamilton, CEO and founder of Hamilton Health Box, addressed the issues of the medically underserved counties in Oklahoma.
Senator Roger Thompson touted the benefits of the project and the added healthcare accessibility in Oklahoma.
"It is an honor to be in the environment with folks like you with one mission in mind, to make a difference in people's lives," Thompson said.
Thompson read a proclamation by Governor Stitt, honoring National Health Care Week and commending the project.
Teresa Huggins, Health and Wellness C.E.O, addressed the crowd and recognized the new partnership with Hamilton Health Box.
"These relationships allow us to be successful and extend our reach," Huggins said.
Hamilton Health Box (HHB) is a private equity-backed value-based primary care microclinic leader. HHB's microclinic operating system leverages a hybrid primary care model to make healthcare accessible, convenient and affordable for small footprint populations including small employers and rural populations.
"We aim to create healthier communities and reduce the total cost of healthcare through our hightouch primary care model," Hamilton said.
"In Oklahoma, there is virtually no county that doesn't qualify by government standards as underserved. We will make healthcare accessible for everyone. There is no wrong door here," Hamilton said.
Health & Wellness serves over 35,000 patients in person and virtually and has served southeastern Oklahoma since 2003.
There are eight Health & Wellness centers in southeastern Oklahoma.
The center has integrated medical, dental, optometry, behavioral health counseling, psychiatry, residential and outpatient substance use disorder treatment, urgent care, and phar-macy services to one location.
"Engagement drives outcomes. People want and need healthcare. We aim to increase access to make it convenient,' Hamilton said.
HWC Urgent Care Virtual Visits are available for:
• Primary Care
• Urgent Care
• Chronic Care Management Utilize HWC Urgent Care for the treatment of:
• Upper Respiratory Infections
• Bronchitis and Mild to Moderate Asthma
• Mild to Moderate Urinary Infections
• Mild to Moderate Skin Infections
• Muscle and Joint Strains
• Abrasions and Mild Localized Burns