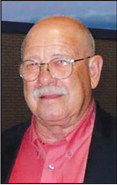 Obituaries
September 6, 2023
Floyd Smith
Floyd Smith of Eufaula passed away in Tulsa, Oklahoma on Wednesday, Aug. 30, 2023 at the age of 79. Floyd was born on Feb. 9, 1944. He was the eldest of 11 children born to Emanuel and Lassie (Dabbs) Smith.
Floyd graduated from Eufaula High School in 1962, attended some college at NSU and did a stint in the National Guard, but mostly he worked.
Floyd worked for a local cleaning business as a kid and a few years for Guy Swadley at the Eufaula Wholesale Inc. before buying and managing the business in 1981.
But for the majority of his life, he was selfemployed. He cut firewood and mowed yards, he owned and operated the Wholesale, Black Goose Chimney Sweep, Take-1-Video and Floyd Smith Realty and Appraisals.
He worked long hours from a very early age until the day before his death, when he was online accepting two more appraisal jobs while lying in the hospital being treated for a host of illnesses. To say he had a Feb. 9, 1944 – Aug. 30, 2023
strong work ethic would be an epic understatement.
On Jan. 29, 1966 he married Judy (Voils) Smith. They had two children, Denny Smith and Ingrid Smith of Eufaula.
He is also survived by brothers, Bruce Smith and wife Denece, Wes Smith and wife Kelly, Rex Smith and wife Theresa; sisters Kay Burns, Connie Brinlee, Cathie Burns, Carla Brockman and husband David; Cynthia Barrow and husband Bob; grandchildren, Chelsi Moody and husband Beau, Ty Fells and wife Sydnie, Wyatt Fells and Cheyenne Fells; great-grandchildren Briar, Braven and Karsten Moody; and a myriad of nieces, nephews and cousins.
He was preceded in death by his parents Emanuel and Lassie, a brother Michael and a sister Jackie.
Per his wishes, cremation arrangements were made with HBM Funeral Home. There will be no viewing and no service at this time.
There will be a memorial service (celebration of life) in the near future when the family has better recovered from this loss and are more able to participate.
No location or date and time have been selected, but this too will be posted in the Journal and elsewhere when a decision is made.
We want all friends and family who knew him to come and visit with us and share their stories about Floyd and who he was to them.