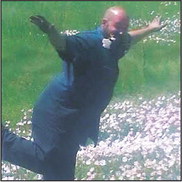 Obituaries
August 30, 2023
Joshua Marshall Barrett
Joshua Marshall Barrett, 42, of Nashville, Arkansas, passed away Saturday, Aug. 12, 2023 in Nashville, Arkansas. He was born March 26, 1981 in Midwest City, Oklahoma the son of Sherry Dushane Barrett and the late Earl Barrett.
Josh was a member of the Choctaw Nation and Eastern Shawnee Tribe of Oklahoma which he was very proud of. He was hardw orking, loved driving tractors, fixing fences and messing with crazy cows. But more imp o r t ant l y his life goal was to make s om e o n e smile every day.
Survivors include his wife, Crystal Barrett of Nashville, Ark.; one son, Corbin Tripp of Nashville, Ark; one daughter, Haley Tripp of Nashville, Ark.; birth mother Debbie Stitz of Stigler, Okla.; brothers, Dustin Barrett and wife Amanda of Shreveport, La., Dale Barrett and wife April of Atoka, Okla., Dave Barrett and wife Cindy of Coalgate, Okla., Dwayne Barrett of Pittsburg, Okla. and one sister Djuana "Crawdad" Youngblood and husband David of Lehigh, Okla.; nieces and nephews Leela Barrett, Orrin Barrett, Destany Henry (Kevin), Dillon Barrett (Alex), Brandon Barrett, Charleston Jarvis (Weston), Gavin Barrett, Jacob Barton, Jacqueline Taylor, Austin Barrett (Chrystina), Kaleb Barrett, Jamie Faulkenberry (Keith), Barinda Henley (Joshua), Micheal Graham (Khristina), Clifton Branum (Tiffany), Matthew Whitmire (Morgan), "special" cousin Teri Bridges of Checotah, Okla.; as well as many cousins and friends.
Cremation services will be under the direction of Latimer Funeral Home in Nashville, Arkansas.