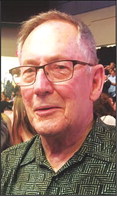 Obituaries
August 30, 2023
Daniel William Hudson
Daniel William Hudson, 85, passed away on Sunday, Aug. 20, 2023, in Eufaula, Oklahoma. Daniel was born on May 17, 1938, in Sheboygan, Wisconsin, to Martin Henry and Ena Harriett (Carney) Hudson.
He grew up in Byron, Illinois.
Daniel enjoyed fishing, hunting and spend- May 17, 1938 – Aug. 20, 2023
ing time on the Rock River as a child. He served in the United States Army and received the Army of Occupation Medal (Germany), Armed Forces Expeditionary Medal (B), and the Sharpshooter (M-1 Rifle) awards.
On Nov. 16, 1968, he married Elizabeth "Betty" Sumner, in Aurora, Illinois. They were married for 54 years.
He worked as a train engineer for several years. Daniel was a member of the Saint Paul's Catholic Church in Eufaula.
Daniel is survived by his wife, Elizabeth Hudson of the home; and daughter, Elizabeth Teer and husband Charles, of Weatherford, TX; grandchildren, Alexandria Hicks and Natasha Hicks; sisters: Rosie Lenners and husband Jim, of Marana, AZ and Marta Reichert and husband Ken, of Prescott, AZ; and a host of nieces and nephews. He is preceded in death by his parents, Martin and Ena Hudson; brother, David Hudson; and sisters, Maureen Robichaud Monica Serventi, and infant sister, Patsy Hudson.
A Mass of Christian Burial was held at 10 a.m., Friday, Aug. 25, 2023 at the St. Paul's Catholic Church with Father Kingsley officiating.
Inurnment will be at Dallas-Ft. Worth National Cemetery. Cremation arrangements were made with Hunn Black & Merritt Funeral Home & Crematory. Online condolences may be made at www. hbmfuneralhome.com.