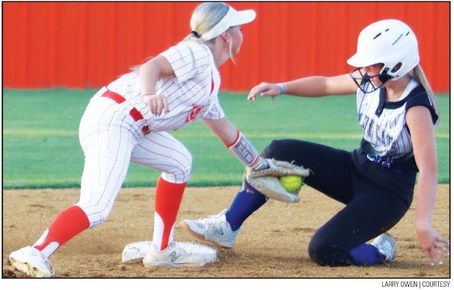 Checotah Lady Wildcats defeat Sallisaw in barnburner
The Checotah Lady Wildcats defeated a salty Sallisaw team 9-5 on Tuesday. Checotah took advantage of an error in the first inning to take the lead 2-0. Checotah scored runs in the second, third and fourth innings before sealing the game with a pair of runs in the fifth inning.
The pitching was superb for the Lady Wildcats as Shaelynn Casey surrendered three runs on five hits over four innings, striking out four and walking one. Hailey Prince came in to relieve Casey. Prince went three innings and recorded the last nine outs to earn the save for Checotah.
Layna Vandiver was hot with the bat as the freshman went 2-for-5 with an RBI.
Makyah Black was l-for-4 with 2 RBIs in the victory.
In Thursday's action Checotah fell to Fort Gibson 8-2. The Lady Wildcats took an early 1-0 lead to end the first inning only to see the Lady Tigers score 2 runs in the second inning, three runs in the third and a pair of runs in the fourth to take a 7-1 lead.
Pitcher Hailey Prince started the game for Checotah. She went four innings, allowed seven hits and eight runs while striking out five. Shaelynn Casey threw one inning out of the bullpen.
Prince did give the Lady Wildcats a spark as she hit a home run in the sixth inning. Kami Hamm, Aurora Madewell and Katherine Anderson each had multiple hits for the Lady Wildcats.