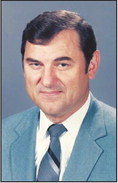 Obituaries
August 30, 2023
Bela Denes Csendes
Bela Denes Csendes, 79, passed away Saturday, Aug. 19, 2023, in Tulsa, Oklahoma. Bela was born on April 17, 1944, in Hungary, to Bela and Jolan (Gyapay) Csendes. In 1962, he graduated from Marmion Military Academy in Aurora, Illinois.
Bela was drafted into the United States Army in 1966 and was hon- The Eufaula Indian Journal • Thursday, November 28, 2019 April 17, 1944 – Aug. 19, 2023
orably discharged in 1973. He then went on to serve in the National Guard Reserves until his retirement.
He married Shirley Ross on Feb. 20, 1971, in Greenville, Texas.
Bela received his Bachelor's Degree in Electronics from Cameron University in 1978. He retired from the Army at the rank of Lt. Colonel and from the Department of Defense as Director of several organizations.
Bela was highly successful and decorated with over 100 awards and decorations in both his military and Civil Service careers.
He attended the Lake Eufaula Christian Church. Bela was a lifelong member of the Eufaula VFW Post 8798.
Bela is survived by his wife, Shirley Csendes
www.EufaulaIndianJournal.com
of the home; brother, Billy Csendes of Aurora, Ill.; and sister, Kathleen Salerno of Aurora, Ill. He is preceded in death by his parents, Bela and Jolan Csendes; brothers, Imre Csendes and Steve Csendes.
A funeral service was held at 10 a.m., Thursday, Aug. 24, 2023, at the Kelley Memorial Chapel with Jeremy Little officiating.
Burial was at 1:30 p.m. at the Fort Gibson National Cemetery under the direction of Hunn, Black, & Merritt Funeral Home & Crematory.
In lieu of flowers, memorial contributions may be made in his name to the Eufaula VFW Post #8798. Online condolences may be made to the family at www.hbmfuneralhome. com.