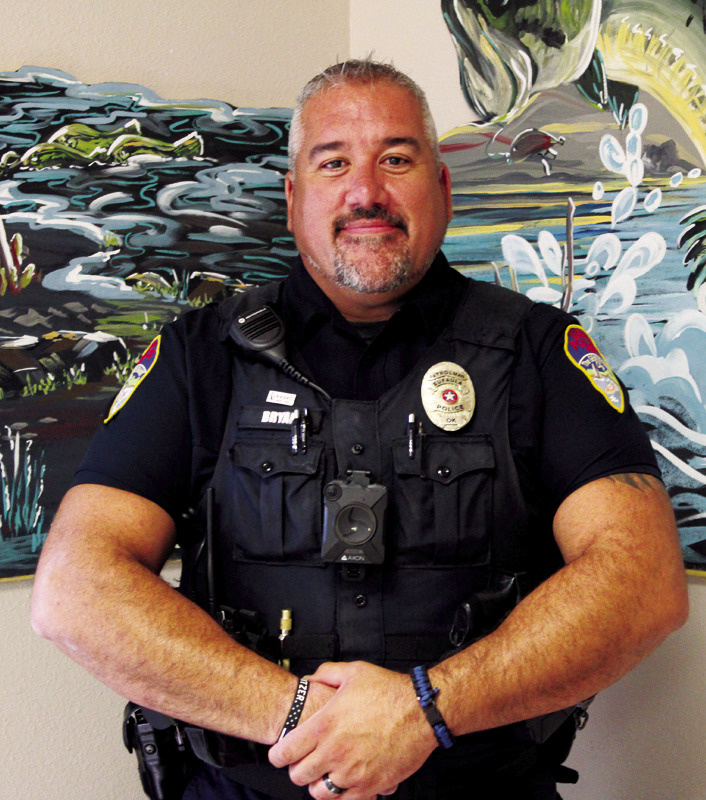 School, city join forces to provide law enforcement on campuses
Voters approved a $1 million school bond issue in April to add a number of safety precautions to the district's schools, including secure entries, safer drop-off sites and more.
In keeping with the Eufaula School Board's desire to make campuses safer, the Board has signed an agreement with the City of Eufaula to place two officers at the district's two campuses.
Previously there was a single School Resource Officer. Now, there is one at the high school and one at the elementary/ middle school complex.
"It is comforting to me as superintendent, and to the principals to have two officers protecting our students and school personnel," said School Superintendent Monty Guthrie. "It is an opportunity for the schools and authorities to work together. It is a huge asset for all of us.
"We encourage the officers to interact with students, to build relationships, to let them know the police department is there to protect them, not something to fear or something to shy away from."
Eufaula City Manager Jeb Jones was more than happy to work with the schools to provide additional police protection.
"This is a value to our kids, a value to our school system and a value to the community," Jones said.
He noted that in light of today's widespread violence, officers on campus are needed.
"We don't expect things to happen here that we see nationally, but it can. We need to have a presence on the campuses to protect our kids," Jones said.
Police Chief David Bryning has seen the need for officers on campus.
Before coming to Oklahoma he was a K9 officer in Oroville, Calif., and frequently took his dog on school campuses.
The schools in California are larger and the problems may be bigger, including drug gangs on campus, but Eufaula has its own problems that need to be addressed "We've had issues at the high school with students bringing weapons on campus, like knives," Bryning said. "A student last year brought a gun to a football game. It was a retaliatory issue."
And drugs are everywhere.
"Just our presence helps deter kids from bringing illicit drugs and weapons to schools," he said. "Last year there were two or three bomb threats. Having a School Resource Officer on campus tends to limit these kinds of issues."
Bryning has assigned two patrol officers to the schools, Officer Michael Harris and Officer Timothy Bryan.
He will continue to oversee them, but they will be accountable to the school district during the school year, working whenever the school is in session. During the summers, they will return to patrol duties.
Michael Harris, High School Resource Officer Prior to moving to Eufaula, where he has family in the area, Officer Michael Harris, 35, was an officer in Oregon.
He tired of the riots and major crime issues there and came to Eufaula, where he was hired by the local police department.
"I'm coming here from a place where we are seeing kids die because of fentanyl. There are so many changes in the world," said Harris.
He is all for the School Resource Officer program.
"They say modern day problems need modern day solutions," Harris said.
He views modern police work as a "symbiotic triangle," involving a community policing aspect on one side, working with the community to develop trust and understanding; a criminal justice side; and the advocacy side – a lot of children feel they don't have a voice."
As a resource officer he wants students to be able to talk to him, as they might talk to a teacher or a school counselor.
"I'm glad to see the school is taking it so seriously. We are in a new age of living and policing that I didn't have to deal with when I was in school," Harris said.
He said he took the SRO assignment because it was something he wanted to do, not because he was ordered to do it.
"I like challenges. I like to help the community. I'm really looking forward to this new position. I find it very important."
In addition to seven years in law enforcement, Harris was a search and rescue flight medic in the Navy.
Timothy Bryan, Elementary/Middle School SRO
Officer Bryan is a native of Louisiana who, at the age of 13, moved with his family to Savanna in Pittsburg County.
He has been in law enforcement for six years. Prior to entering law enforcement in 2017 he was an Emergency Medical Technician.
Bryan, 43, and Harris attended the one week School Resource Officer together and have similar philosophies.
"Being a School Resource Officer is so much more than just walking the halls and making sure there are no drugs," he said. "You've got to get involved with the kids. Let them get to know you.
"On the streets you get to know people, but you don't see them every day on a daily basis. My take is that when you go to the school you've got to connect with the kids, got to get to know them, their personalities, their likes and dislikes so you can see when something is not right. Maybe they're happy-go-lucky one day then the next they're not themselves. You see something is not right."
Bryan wants the students to know he is someone they can talk to.
"Someone there for help when they need it. Right now, they need their education and if something is hindering their education, then we may end up having to deal with it on the streets," Bryan said.
He said his goal is to see that there is an easy transition for students between the elementary/ middle school and high school.
"I want them to know when they leave my school to go to Michael's school they can trust him just like they trust me," Bryan said.
He said that people around Eufaula give so much support to the police "it's unbelievable." "But some of the juveniles are on that downward path, whether it's due to social media or other outside sources, the seeds are being planted but haven't taken root yet."
Harris said there isn't much respect for law enforcement in Oregon.
"What they expect from law enforcement (in Oregon) is way different from here. In Oregon they don't like officers in schools. They don't want you around kids," Harris said.
Bryning had similar observances in California.
"They still regard law enforcement as a needed necessity … if you go out and talk to 10 people here they will say they appreciate what we do. In California we might get one. People out here wave at you with all five fingers," Bryning said.
The city manager says Eufaula has a lot of respect for its officers.
"And the city is very appreciative of the public and the support they give us," he said.