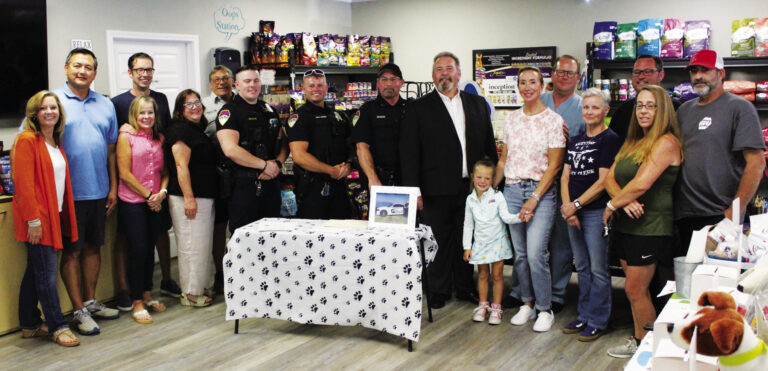 Drive launched to help fund city, county K9 units
Hope to raise $20,000
Folks concerned about the proliferation of illegal drugs in this community can join the fight against the deadly dope by contributing to a fundraising effort to help support K9 Units.
John and Shari Wilkins, owners of Lake Dogs and Their People, last week began their 2023 fundraising drive to help support K9 units in the Eufaula Police Department and the McIntosh County Sheriff 's Office.
Their goal is $20,000.
"Our local K9 Officers have limited funds to pay for their vet bills, dog food, tactical gear etc.," Shari said. "Loyal customers, community members and business leaders came together and raised $7.547.28 last year. This money paid (for the officers') dog food, vet bills, first aid kits, detection odor kits, tactical gear, bite suit and more!"
Police Chief David Bryning hopes to add a second K9 Unit to the Eufaula Department, calling the K9 officers an important element of law enforcement.
"The need for a K9 narcotic detection dog is overwhelming," said Bryning, who worked with a K9 unit in Northern California before moving to Oklahoma.
City Manager Jeb Jones said it's a problem across the country.
"In a small town, like Eufaula, K9s are an indispensable tool," Jones said.
Bryning said K9s have had a profound impact on combating drugs.
"We average 10 plus narcotic arrests a week, and that's just what we find. With the K9 Unit, that doubles," he said.
Because officers are limited to eyesight for what they can find, the dogs and their sensitive noses add a new dimension. They are able to detect drugs hidden in gas tanks, the frames of vehicles and other locations beyond the visual.
He emphasized that the drug problem is becoming more serious, with the drug dealers adding horse tranquilizers to fentanyl, making the combination even more addictive.
Even marijuana is becoming more dangerous, with the dealers lacing it with fentanyl.
Bryning says he is very proactive in the drug fight.
"It's what it does to our community," he said. "People are dying left and right."
Thousands of family members – children, parents, grandparents – are affected by the drug epidemic.
Bryning made his comments at a gathering Tuesday, Aug. 8, at Lake Dog on Main Street.
Attending the fund drive kickoff were several lawmen, city officials, Lake Dog owners and a host of folks who have already contributed.
Dr. Edwin and Sandra Henslee donated $1,000, as did Zack and Angela McQuay.
Bank of Eufaula and Eufaula NAPA Auto Parts made contributions.
Rowe and Shawn Nelson, owners of Belt40, will host a fundraising dinner at their restaurant on Thursday, Aug. 31.
Many businesses have joined the effort, including: – Stites Home Furnishings will contribute 10% from Saturday sales in August (beginning Aug. 12).
– Mama Tig's, on Thursday, August 24, will donate 10% of sales that day to the Eufaula Police K9 Unit.
– E's Hideaway Restaurant , on Tuesday, Aug. 22, will donate 10% of that day's sales to the Eufaula Police K9 Unit.
– Fox Place, on Tuesday, Aug. 29, from 6 p.m. to 8 p.m., will donate 15 percent of sales to help raise money for Eufaula Police K9 Unit (this after-hours event will have a free gift with each purchase. Snacks, drinks and door prizes).
-Nicole's & Meme's, on Friday, Aug. 18, will donate 10% from sales that day to the Eufaula Police K9 Unit.
– Lake Dog and Their people, through the month of August, will have raffles, K9 T-shirt sales and fun bin dog toy sales ( half will go to Eufaula Police K9 Unit and the other half will to McIntosh County K9 Unit).
– High Street Coffee, on Tuesday, Aug. 22 through Saturday, Aug. 26, will donate 20 percent of sales to the Eufaula Police Department.
Anyone who wants to make a donation can send it to: City of Eufaula Police Department PO Box 684, Eufaula, OK 74432 Checks payable to: Eufaula Police Department