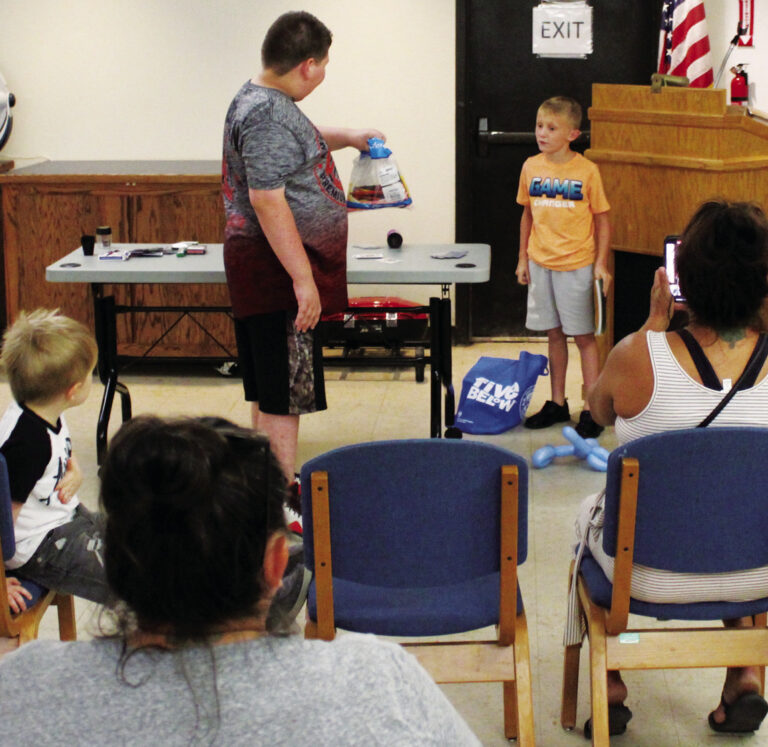 A magical moment for cousins
Luke "The Great Lukeini" Beaver, 12, and Trigger Ford, 9, who has not yet adopted a stage name, surprised each other recently when both arrived at the Eufaula Memorial Library to perform a magic show.
Neither of them knew of their other's interest in magic.
The young cousins are aspiring magicians who are still learning the tricks of the trade, but they are performing like troupers when they have the opportunity to step into the spotlight.
When they met in the lobby, they quickly formed an act.
Two magicians for the price of one.
Trigger wanted to make sure he wouldn't do the same tricks as Luke.
Luke said they would alternate tricks.
Trigger has been practicing magic since he was 6 years old.
"I practice whenever I can," he said.
He became interested in the art of magic after his mother took him to a magic show in McAlester.
Luke became interested in magic last year when he saw magician Jim Green perform at the Community Center.
Magic has given Luke selfconfidence.
"It has helped me believe in myself by not letting what some people say affect the things I enjoy doing and what makes me me," he said.
After being inspired by Jim Green, Luke says he has studied the art, watched how other magicians do things on YouTube.
He likes David Blaine and a handful of other magicians.
But he is most grateful to Shymekia Wilson-Adams, who recently was appointed Branch Manager of Eufaula Memorial Library, and library assistant Tatum.
"They were always there for me and answered all my questions. I'm sure they will agree that I asked a lot of questions," Luke said.
Luke has performed at the library seven or eight times.
It was Trigger's encore. Both performed like pros. Young pros with lots to learn, but young pros none-the-less.
With nerves of steel they stood in front of an audience composed mostly of a few relatives and a few friends to show their stuff.
There was no sword swallowing, no sawing a showgirl in half or pulling a rabbit out of a hat or stepping into a large container and disappearing, only to reappear at the back of the room.
But the youngsters were entertaining with their cards and rope tricks, balloon animals, books whose pages magically switched from black and white to color or disappeared entirely.
There was plenty of banter between them and the audience. Neither got flustered if a trick didn't quite come off. They merely cracked a joke and moved on.