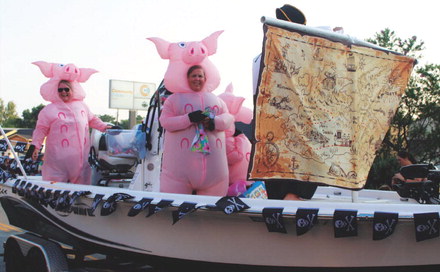 This weekend's Whole Hawg Days won't be boar-ing
Pig parade Friday at 7 p.m.
Friday night's 39th Annual Whole Hawg Day Parade kicks off at 7 p.m. Friday, NOT Saturday, as was recently incorrectly reported by the Indian Journal.
We will blame it on the heat affecting our thinking.
Participants will gather at the high school parking lot at 6 p.m. No sign up is needed.
First, second and third place awards will be given to the best hawg-themed entries. The high school's Pride of Eufaula will perform on High Street in front of High Street Coffee.
The Eufaula Band Boosters Association is hosting the annual Whole Hawg Days Arts & Crafts Show in Posey Park.
This year, the event begins Thursday evening followed by events Friday and Saturday.
In addition to a wide variety of arts and crafts booths, there will be lots of vendors.
"Our goal is for the festival to offer a variety of food vendors. Anyone who wants to come set up their food truck along Border Street, part of 2nd Street and part of 3rd Street, we will offer a discounted vendor fee," said a Booster spokesman.
The art & craft show is a major part of Whole Hawg Days, but also important is the Jokers Wild Poker Run on Saturday, July 29.
Top prize for the Run is $20,000, based upon 500 entries.
For complete details about Whole Hawg Days check the insert inside this issue of the newspaper.
A host of other prizes will be awarded at the end of the event.
The Eufaula Round Up Club Rodeo will be held at the McIntosh County Fairgrounds starting at 8 p.m. on Thursday, Friday and Saturday nights.
In addition to all of the classic rodeo events, the three days will include Mutton Bustin' and Calf Scramble.
Admission is $8; those six and under, free.
The heart of Whole Hawg Days is, of course, the cook-off.
Chefs will be vying for the title of best pork cook and a prize of $1,200. Second place winner will take home $500 and third place $225.
There also will be prizes for best ribs winner and best mystery meat winner.
Judging begins at 3 p.m. Saturday at the Chamber of Commerce office, 301 N. Main St.
At 5 p.m., cooks will be handing out free pork sandwiches.
The Whole Hawg Car Show will be held from 8 a.m. to 3 p.m. Saturday in Kiwanis Park, 2nd and Golding streets.
The full weekend of activities will be capped off by Cruise Night, from 6 p.m. to 10 p.m. Saturday.
Eufaula Public Market, next to Inspiration Gardens, will host a Cruise Night hangout.
Everyone is welcome.