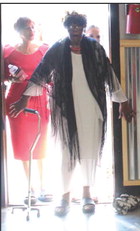 Momma Dear shocked by surprise 90th birthday party
A couple of hundred family members and friends paid their respects to Vera Jones, 90, at a surprise birthday party Saturday.
When she walked into the meeting room at the fairgrounds, where dozens of cars were parked, she was shocked as she stepped inside, the lights came on and folks shouted and applauded.
Momma Dear, as she is affectionately known, thought she was attending a birthday party for someone else.
Almost anyone who has eaten at the iconic JMs restaurant, long gone now, knows Vera – or at least the product of her labor.
She was a cook at JMs for many years, also at Fountainhead Lodge.
"She raised eight kids and worked full time, as a cook most of the time," said one of her daughters, Jennifer Dan.
Her children still live in the area, from Checotah to McAlester.
Daughter Sharon McCoy organized the event.
The children and a host of grandchildren and great-grandchildren attended the celebration of Vera's life.
During the fete Jerry Whitfield, on behalf of the Joseph LaCour College Foundation, presented her with a plaque thanking her for her accomplishments and years of service to the community.
Letters of appreciation
Momma Dear by Cynthia Reynolds: I am the fifth grandchild and my mother (Bevela) is the fifth child born into a strong lineage of God-fearing women from a woman named Momma Dear!
There is really not enough time in the day or space on a page to sum up who and what Momma Dear means to me.
Her name speaks for itself. She is a "dear momma" in every connotation of those two words. She is a Proverbs 31 woman – clothed with strength and dignity; she can laugh at the days to come. She speaks with wisdom, and faithful instructions are on her tongue. She watches over the affairs of her household and does not eat the bread of idleness. For as long as I can remember, Momma Dear has not only been a dear momma to her family but also a dear momma to the people within the community she lives.
At 90 years old, she is literally one of the last ones standing across "the tracks." She has lived a very blessed life and her generations are blessed because of her faith, honor and obedience to The Lord.
My mom, Bevela, is just like her – mannerisms and all. It is because of these two women that I can celebrate my accomplishments in life. I would not be who I am or where I am in life without their love, support and commitment to my goals and dreams.
Momma Dear kept my oldest son during the day and my mom kept him at night while I finished college. My Bachelor's Degree from the University of Tulsa should literally have their names on it too… sometimes it takes a village!
Nevertheless, I have seen and met some of the rich and famous and I have bumped elbows with millionaires but there is none more iconic than Momma Dear because she is in a league of her own!
Momma Dear by Shantal Keith: Vera Lee Jones, AKA, Momma Dear, is a woman of God who has built a legacy of giving without expecting anything in return. For as long as I can remember she's been doing the Lord's work and the work of the Lord…She truly has a servant's heart.
I remember as a child how if someone in the community passed away she would go around and take up a monetary collection for the family and she would cook food to take to the family as well.
Mommy Dear would plant and work several gardens and share the fruits of her labor with families in the community. She would work all day on her job, come home and cook dinner and then go work in the gardens.
Mommy Dear did this for many years until her body just would not allow her to do it anymore.
But she found another way to give – she cooked Sunday dinner for her family and the community. Mommy Dear would make sure her children fixed plates and deliver them to those in need in the community.
Her acts of kindness and her commitment to doing the Lord's work and doing the work of The Lord is an amazing legacy for her children, grandchildren and great-grandchildren to follow.