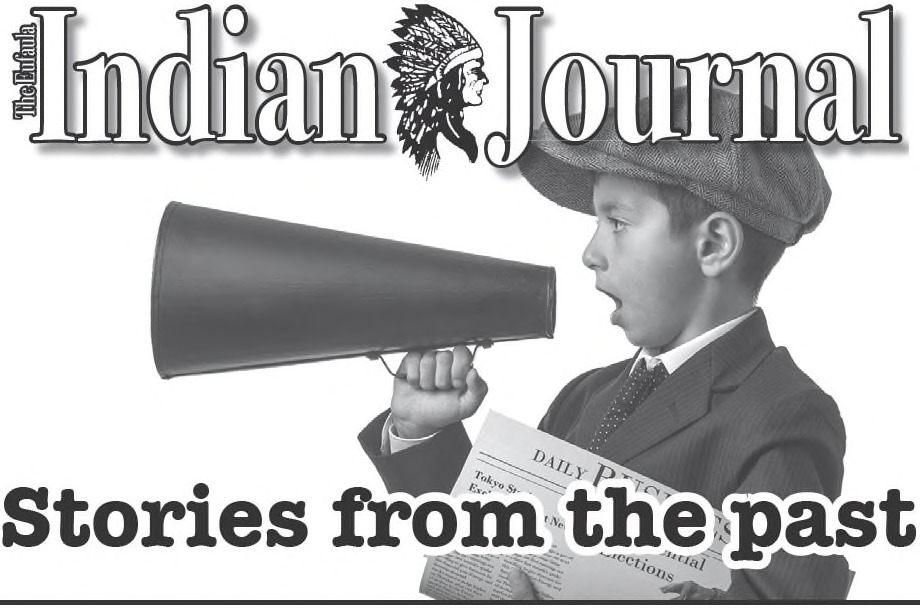 143 YEARS AGO
Judge William Lawrence, of Oklahoma, has accepted the position of First Controller of the Currency, since Judge Porter resigned.
– Heavy rains have prevailed throughout portions of Michigan, Wisconsin and Iowa, doing great damage to the crops. The town of Waterloo, Iowa, was partially inundated and two young men and a girl were drowned.
– A death by yellow fever occurred in New Orleans on the 12th, the victim being James Kinney, aged 19, a seaman of the Swedish bark Excelsior, from Rio Janeiro, with coffee.
Late News Items
– The Albanians have opened the war upon Montenegro. The first attack was made on the 11th, near Galoubusche, where a number of Montenegrin pickets were surprised, shot down and beheaded, the victors bearing off their heads as trophies. The attack causes great excitement.
– Another destructive oil fire has occurred at Custer City, near Bradford, Pa., caused by lightning striking an oil tank.
– Chastine Cox was hanged in the jail yard of the Tombs, New York City, on the 16th for the murder of Mrs. Jane De Forest Hull, in June 1879.
– It is reported that Peru and Bolivia are about to be united into one government, under the name of the United States of Peru and Bolivia.
Women's Rights In Africa
The Bolanda negroes in Africa believe in the supremacy of women. It is the law that women shall sit in the councils of the Nation; that young men, on entering the matrimonial state, shall remove from his own village to that of his wife, and that after forming this relation he shall himself provide his mother with food so long as she shall live.
Here, too, the wife alone can divorce and the husband, and the children, in the event of divorce, become the property of the mother. The men cannot enter the most ordinary contract without the permission of the lady superior of the domestic circle.
• ••••
117 YEARS AGO
Friday, July 27,1906
EUFAULA DROPS ANOTHER GAME
The Checotah baseball team came down to Eufaula Tuesday and administered another defeat to the locals by a score of 6 to 5.
The game was a good one throughout and would likely have been an extra inning game had not Ballew knocked the ball into the deep weeds in left field and before the fielder could get his optics on the sphere, had scored a homerun on what should have only been a two-base hit.
Illinois men look for land in Eufaula
Messrs. Ringo and Simpsizer, of Bloomington, 111., were in Eufaula several days this week with a view to buying land. They were much pleased with the town and surrounding country and said that they found the best land around Eufaula that they had seen since leaving Illinois.
Will Leave Eufaula
W.R. Allen and family are soon to leave Eufaula, Mr. Allen having been given a superintendency in the Creek national schools. Just where he will be located is not yet fully known, as he has the refusal of several of the best schools, but has not decided which one he will take.
Mr. Allen has made Eufaula his home for several years and has been in the employ of several of the largest firms in town in the capacity of clerk and bookkeeper and leaves with the best recommendations.
We are sorry to lose this family from our social circle, but wish for Mr. Allen success in his new vocation.
100 YEARS AGO
Thursday, July 26,1923
DEATH LURKING IN AUTO CRASH
Mrs. Maggie Dunbar, a widow living at Checotah, is unconscious and near death and her son, Victor Caves, is badly injured as a result of a wreck with an automobile on the Jefferson Highway seven miles north of Eufaula at 11 o'clock Monday night.
Sandy Fox is confined in jail here on a charge of being drunk. It was Fox's car, according to Deputy Sheriff Bob Russell, that struck a wagon occupied by Caves and Mrs. Dunbar. Caves was driving to the Kiamichi mountains with his mother for the benefit of her health.
The wagon was reduced to kindling.
UndersherifF to Quit
Undersheriff Bill King, who has been office deputy for Sheriff M.B. Moore, since the latter took office two and one half years ago, has handed in his resignation to take effect Aug. 1.
Mr. King will take several week's vacation in Colorado, Yellowstone Park and California, after which he will accept a position with the Oklahoma Farm Mortgage company, with headquarters in Bartlesville.
TRAIN WILL NOT EXTEND THROUGH MCINTOSH COUNTY
The Okmulgee Northern railway's connection with the Katy railroad will be made at Oktaha, Muskogee county, according to a petition filed with the interstate commerce commission at Washington.
The Katy recently concluded a lease on the Okmulgee Northern which at present runs from Henryetta to Okmulgee. First reports had it that the line would be extended from Okmulgee to either Checotah or Eufaula in McIntosh county.
• ••••
75 YEARS AGO Thursday, July 29,1948
Yankee Scout to be in McAlester
McAlester, on Wednesday and Thursday, Aug. 4 and 5, will be the scene of a New York Yankees tryout camp.
The camp will be held at Jeff Lee Athletic park. McAlester is a New York Yankee farm club.
Any ambitious young ball player who would like to display his talents before Yankee scouts will have the chance. Ages of boys eligible to attend have been set at 16 to 22 years inclusive.
Older Men to be Drafted First
WASHINGTON – Selective service director Lewis B. Hershey announced Tuesday that 25-yearold men will be drafted first. Other age groups will be taken in order of their registration, he said.
He told newsmen that approximately 5 million men will be processed in the first six months of the program, beginning with the 25-year olds and working down through those in the 22 year age brackets. Hershey estimated that only about 70,000 would be actually subject to peacetime service of 21 months. He called attention to the fact that deferments for various reasons would cut down the number of men available.
Senate Battle is On Over Poll Tax
WASHINGTON – The Senate began a civil rights fight Wednesday that may tie up the special session of Congress until it adjourns and thus kill President Trumans' anti-inflation program.
Republican senators agreed at a caucus to bring up an anti-poll tax bill Thursday, spurning President Trumans' plea that high prices and the housing shortage should be dealt with first.
(ed.
– A poll tax is a tax a person must pay before being able to vote.)
50 YEARS AGO
Thursday, July 26,1973
Plan To Attend US. Navy Free Concert
The Navy's Fabulous Country Band will present a free concert and street dance on July 27 at 9 p.m. in downtown Eufaula.
The group will be traveling all over the United States.
The event is sponsored by the Eufaula Chamber of Commerce.
Tragedy Strikes Near Stidham Area
Patricia Gail Lane, 26, of Checotah, was dead on arrival at McAlester General West Hospital Monday morning following a one-car accident seven miles west of Eufaula on the Stidham road around 8:50 a.m.
According to the Oklahoma Highway Patrol the driver lost control of her 1959 Ford pickup while traveling on the road to Stidham. She apparently tried to correct the steering too quickly after the vehicle left the roadway and it overturned, ejecting her from the cab.
Rev. W. L. Williams, 80, Rites Here July 22 Funeral services for Rev. Wallace Leroy Williams, 80, of Eufaula, were at 2 p.m., Saturday, July 21 in Dickerson Chapel African Methodist Episcopal Church here.
A veterinarian, Rev. Williams was a retired pastor of the Dickerson Chapel. He was born Aug. 23, 1892 at Carthage, Texas, and died at his home here Saturday, July 14.
25 YEARS AGO
Thursday, July 30,1998
Whole Hawg Day Another Success
Another Hawg Day success went down in the records after last weekend's 14th annual event.
Some 43 Hawgs were cooked in the cook off contest and after a grueling two hour judging event, Bank of Oklahoma was named the top Hawg by the 16 volunteer judges. Second place went to Boy Howdy and Sharpe's/Ben Franklin took third.
Grider Family Opens Carousel Inn
The Carousel Inn, which opened the first week of July, adds another bed and breakfast to the Eufaula area. It is conveniently located at 123 S. Main St.
The building where the Carousel Inn is located was previously an Indian rooming house. A few years ago it housed the Parkhurst Cleaners. Owners of the cleaners lived upstairs and operated the business out of the lower level.
This bed and breakfast is owned by Thomas and Pattie Grider and their children.
School Starts Aug. 12
Classes will begin Wednesday, Aug. 12,1998, for all students enrolled in Eufaula Public Schools. Two enrollment dates have been scheduled for elementary students to allow for less crowding on the day before classes are set to begin.
All school staff members will return to work on Monday, Aug. 10, for orientation and staff development sessions in the high school auditorium.
• ••••
22 YEARS AGO Thursday, July 26, 2001
1st annual Whole Hawg Lake Run
Check in is at the Eufaula Community Center 1st place will receive $15,000 Sponsored by local businesses Come enjoy some fun on the lake.