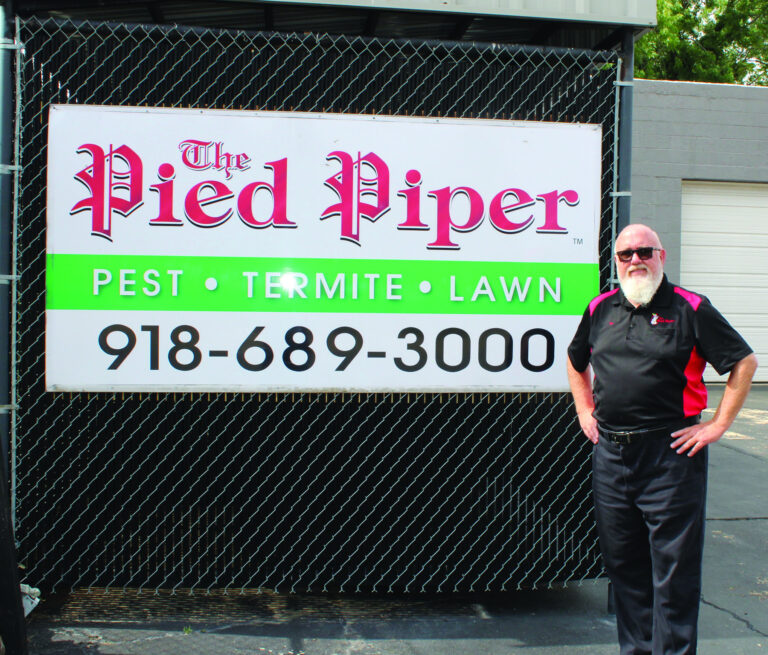 Pied Piper playing a happy tune
Anniversary celebration Friday
Everyone is invited to join Tim and Cynthia Whitt, owners of Pied Piper Pest, Termite and Lawn, to help celebrate their 13th year in business.
"This is a customer appreciation party," Whitt said.
The festivities, a meet-andgreet with food and an hourly drawing, take place from 10 a.m. to 2 p.m. Friday, July 21 at Pied Piper's main office, 320 N. Main St.
The day after Whitt's community celebration is National Rat Catcher's Day, symbolically a tribute to exterminators nationwide – but especially to Pied Piper Pest.
The Day pays homage to the German tale of The Pied Piper of Hamelin, who got rid of the rats that infested the small village.
When the mayor of the village refused to pay him for his services, he then played his magical flute and the children of the village followed him into the unknown.
"National Rat Catcher's Day serves as a reminder of both the power of music and the consequences of broken promises. It commemorates the valiant efforts of the pied piper who, through his enchanting melodies, saved the town of Hamelin from a plague of rats. It also serves as a cautionary tale, reminding us of the importance of gratitude and honoring our commitments, lest we face the wrath of unforeseen repercussions," says a press release.
Whitt's company doesn't limit itself to rats. It goes after bed bugs (perhaps the worst pest of all), termites, ants, mosquitoes, fleas and countless other menaces.
In the past 13 years, Pied Piper has diversified.
"We provide multiple services," he said. "We also do lawn care – weed control and fertilization; bird control and wildlife trapping."
Whitt envisions expanding into other areas, such as installing sprinkler systems.
"And may someday offer landscaping and handyman services," he said.
The visionary started off in Eufaula as a two-person operation in 2010, just him and his wife.
Today, they have 23 employees who provide extermination services throughout much of Oklahoma and all the way down to the Dallas –Ft. Worth area.
The company expects to continue to grow, and possibly offer franchising.
Whitt has been in the pest control business almost his entire adult life, starting out as a technician for Terminix at the age of 18.
He worked his way up through the ranks, ending up on the corporate level.
While living in the Dallas-Ft. Worth area, he worked in Oklahoma City for 15 years and during this time bought a cabin in the Eufaula area as a weekend retreat.
When he retired in 2009, he and his wife decided to retire to Eufaula.
Restless, it wasn't long before they started Pied Piper.
"Our very first customer was Sheryl (Bichsel), owner of Paradise Realty," Whitt said. "She was instrumental in helping us, referring us along to others."
Bichsel died last year in a tragic motorcycle accident.
Reinvesting in Eufaula
Along the way, the Whitts have bought several old buildings in town, including a former gas station at the corner of Main Street and Memorial Drive which serves as the Pied Piper headquarters.
The almost 100-yearold building once was owned by a minister who often performed weddings there, Whitt said.
He did a painstaking renovation of the station, highlighting many of the old features that nostalgia buffs appreciate.
Whitt also bought a building at 1st Street and Selmon Avenue, a site where he leased a storage area when he first came to town and set up shop.
Another investment was a building across the street, and little west, of the post office.
He also bought a building from the Eufaula Public Schools that once had been a gymnasium for Dixie Elementary School.
The former school is now a training center for Pied Piper.
"You have to reinvest back in the community," Whitt said. "We have been blessed to be able to do so."
He attributes much of his success to the company's relationship with its customers.
"If they like who you are and feel like they're being treated fairly, they're going to stay with the company," he said.